Coach's Husband Helps Send Bibles to Uganda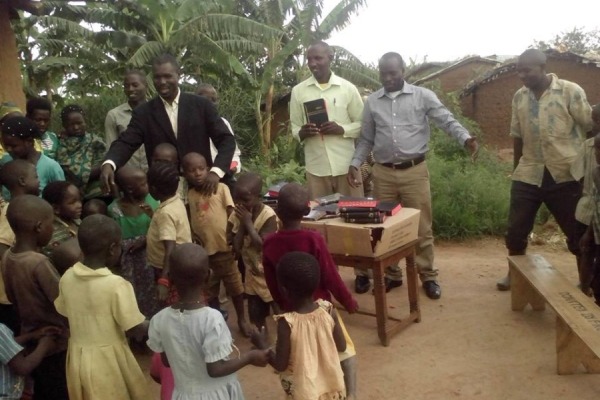 Burt Shurette, husband of Central's softball coach and physical education teacher LeeAnne Shurette, spent the last of the 2014 year helping raise money to buy Bibles for families in the Nakivale Refugee Camp in Mmbara, Uganda. The program was started by the Words of Hope Foundation and had been going on for a while prior to Mr. Shurette getting involved. He helped spread the word about raising money for the cause. Shurette worked with Pastor Enoch, the head of the program in Mmbara.
Brainerd Baptist Church and the Words of Hope Foundation set out to raise $2,000 to put toward buying new Bibles for families in Mmbara who were hungry to learn the Word of God. A Bible in Uganda costs the equivalent to the average month's wage, which is around $13. Shurette was asked several times by pastors and people how they were to expected to read God's Word when they had so few Bibles.
"It was very tough to answer that question knowing I probably have eight bibles laying around my house. I promised those pastors I would do my best to share this with our American Christian brothers and sisters to help raise money," stated Shurette.
The program ended up raising just over $2,500, and that money bought 200 Bibles for the Ugandan families in the Nakivale Refugee Camp. Due to the Bibles' cost, distributing them had to be done very strategically in order to prevent the Bibles from being resold to purchase food and other items.  Pastor Enoch visited different churches within the refugee camp and gave the members different Bible verses to memorize. Two weeks later, Pastor Enoch returned and gave the members a longer verse to memorize. After this was repeated a few times, those who memorized all the verses were given a Bible.
"The pastors we taught on the trip truly cherished their Bibles and God's Word.  It was almost shameful to see how they sat on the edge of their seats when we were teaching and how excited they were to learn about the Word of God," recalled Mr. Shurette.
Americans do not realize just how fortunate they are. Complaints are constant about the food that is on the table, but a "thank you" is rare for the fact that they have food on their table. Those in the Nakivale Refugee Camp do not have access to unlimited amounts of food and extra money after the bills are paid at the end of the week.
"A lot of people aren't as fortunate as us. When I went to Haiti, a lot of the kids didn't even have a pair of shoes. I feel like with this project, it was very eye-opening that we take advantage of simple things like a Bible or a pair of tennis shoes, so I am very grateful," said sophomore Savannah Smith.
Leave a Comment