Alumni Spotlight: James Walker ('84) Continues to Serve Community and Central
Central High has produced many students that have gone on to leave a legacy in the Harrison community; few have had such a positive impact as 1984 graduate James Walker.
During his time at Central, Walker was a member of the football team and was well liked by his peers. In his senior year, Walker was selected as a class officer and a member of the Mr. Central court. Though his time as a Central student is impressive, what Walker has accomplished after graduation is what makes him truly special.
After graduating, Walker chose not to go attend a university but to get a job in sales. Currently, Walker is the District Sales Manager at the Tennessee Education Lottery, where he oversees over 1,300 locations across the Volunteer State. Both at work and through his position as the Vice President of the Central Alumni Association, Walker is heavily involved with scholarships.
"I love being involved with scholarships," the lifelong Harrison resident stated. "It is a great opportunity to give back to the community… I really believe in volunteering and service."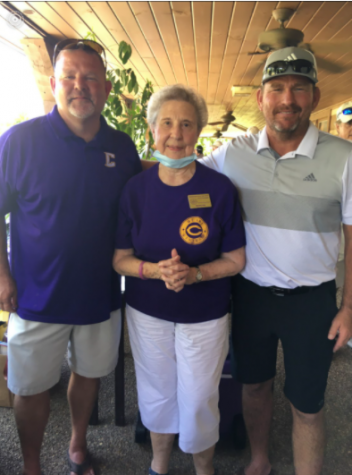 On top of Walker's unwavering dedication to the Alumni Association, he is also deeply committed to Central sports teams. Walker is the Vice President of the Quarterback Club and heavily involved in the football program. Walker has also been a big part of fundraising events such as the Connie Hay Memorial Golf Tournament. In addition, he has been the voice of Central's baseball team for the past six years.
He has also spent the last 20 years at Harrison Youth Recreation Association influencing countless players and families during his work as a coach and parent.
During his many years of devotion to Central, Walker has made many lifelong friends such as Naomi Hay, the wife of the late Central legend, Connie Hay.
"He is a true Purple Pounder…" Naomi Hay described. "I've known [Walker] since the fourth grade. You can count on his help, whenever he is needed…we need more people like [him]!"
Walker's everlasting commitment to Central, particularly through the Alumni Association, the football and baseball organizations, and his service to the entire Harrison community makes Central proud to call him their own alumnus; it is clear how James Walker wholly represents the values all Pounders hold near and dear to their heart.