Extra Innings: Defense Plays Key Role in Pounders' Three Game Win Streak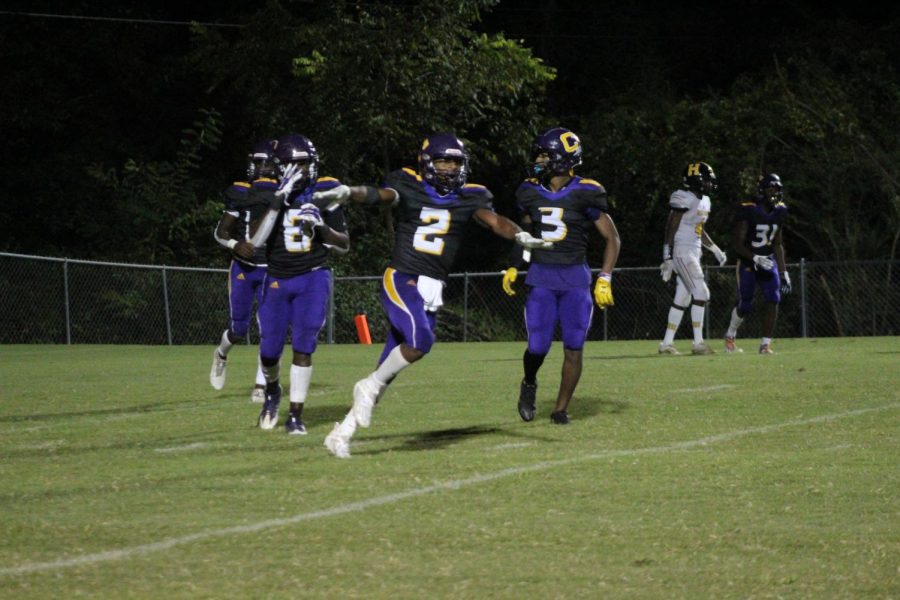 Bear Bryant, who is recognized as one of the greatest college football coaches of all time once said, "Offense sells tickets, but defense wins championships." That saying has been taken as gospel by much of the football community and if it holds true for the 2021 Central High School football team, the Pounder faithful are in for an exciting ride.
Head Coach Curt Jones' squad is currently on a three-game winning streak in which they have knocked off region opponents Soddy Daisy, Hixson, and Red Bank in consecutive weeks. In those three games, Central has outscored their opponents by a wide margin of 81-28. Perhaps most noteworthy in those games, the defense has racked up seven turnovers and five defensive touchdowns. Of those 81 total points, 30 have been scored by the defense.
Coach Curt Jones had this to say about his team's performance, "Our defense has played up to the expectation that we set at the beginning of the year…"
In week four of the 2021 campaign, the Pounders stomped Hixson by a score of 40-0 with all those points coming before halftime. Much of that success can be attributed to the defense led by Chris Nichols, Londen Martin, and Donovan Smith. The Central defense came up with four turnovers, and more remarkably, three of those resulted in Central touchdowns. Blake Brothers, Tyi Moseley, and Marquise High all had scoop-and-score fumble returns for TDs. 
The following week, Central's fortified D stood tall versus Red Bank. The Pounders upended their eight-year losing streak to the always-tough Lions as they came away with a 23-21 victory. The Central defense only allowed the Red Bank rushing attack, who average 340 yards per game, to 39. Holding the Lions running back Reco Trimble, who has collegiate offers from NC State, Arkansas, and Ole Miss, was no small task. Both linebacker Reggie Wadley (five-yard return) and defensive linemen McKinley Bacon (65-yard return) took back fumbles for a touchdown. Shortly after, Ronye Watson had a 75 yard completion to Donovan Smith which set up for a two yard touchdown run. 
"We knew what was at stake [versus Red Bank]… We all knew that we could rise to the occasion and we made it happen…" shared Senior Tyi Mosely. 
This week the Region 3-5A Clinton Dragons (3-2) will travel down to Etter Farmer Field and Central War Memorial Stadium to take on the Pounders in a non-region homecoming battle.  Can the defense continue to ring up touchdown after touchdown?
"I know that are going to keep them out of the endzone and keep putting points up on the board from the defensive side of things…" said defensive linemen Chris Nichols.
Now in first place in the Region 3-4A standings, the Pounders will try to add onto their momentum and clinch their first region title, and make it to their first state playoff game since 2019.
When Coach Jones was asked about his expectations for the game vs. Clinton, he explained, "We have got to come out and play hard, and play solid, swarming defense."
Readers can view the latest sports updates on the sports center page. This is where schedules, scores, and rosters will be posted. The Digest will continue to bring the latest coverage and updates as the 2021 season progresses.