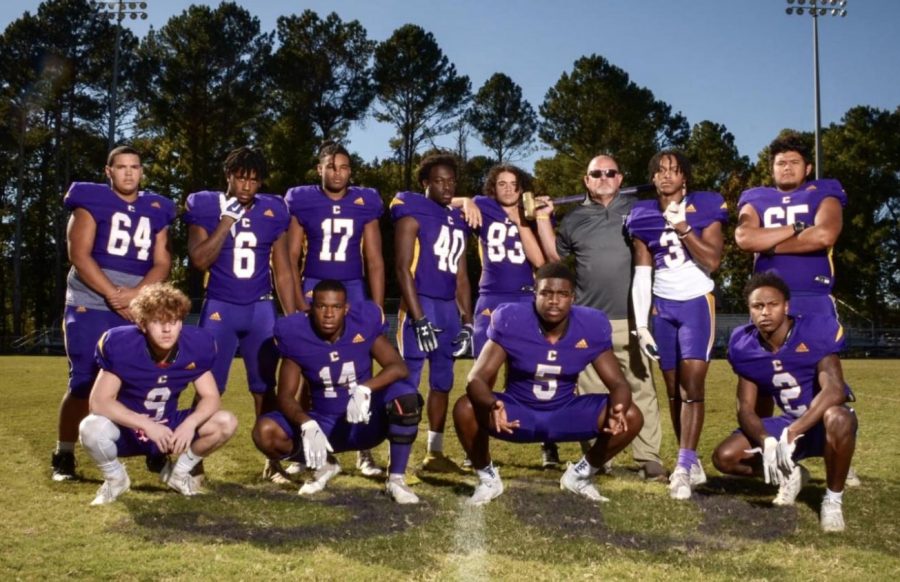 Coach Jones, Seven Football Pounders Named to Tennessee East-West All-Star Game
November 22, 2021
The 2021 playoff run is in the books for Central and though the Pounders came up short of their ultimate goal- a state championship- their campaign is widely regarded as a success. This season, the Pounders finished with a record of 6-2 and a share of the 4A Region 3 title. The season was Central's best finish since 2003 and will likely result in numerous senior players to sign to play football at the next level.
Recently, the rosters for the 2021 Tennessee East-West All-Star Classic were announced. Among those named were Chattanooga Central's Coach Curt Jones and seven Pounders.
The All-Game is an opportunity for area football players to show off their skills in front of college football coaches of all levels. The game will be played at East Hamilton High School on Saturday, December 11, at 2 p.m.
When asked about what being named the head coach of an all-star team of this caliber, Coach Jones said:
"Anytime you get asked to coach an all-star game it's awe-inspiring… I am thankful for how the kids played because if it wasn't for them I would be here."
Jones will head up the East team. He will be joined by Pounder running back Michael Watson, linebackers Reggie Wadley and Alijah Heyward, wide receiver/cornerback Tyi Mosely, wide receiver Noah Collins, and offensive linemen Demetrio Dominguez and Karl Moore.
"This game is just a big confidence boost for me because I know I am going to be out there competing against the best of the best," Karl Moore explained.
In addition to his seven Pounders, Jones' team will be comprised of select players from other area schools such as East Ridge, Soddy Daisy, Cleveland, Ooltewah, Walker Valley, East Hamilton, Bradley, Howard, Tyner, Boyd Buchanan, and McCallie.
Jones' East team will face off against the West team coached by Mike Connor of Silverdale Baptist Academy. The West team will consist of players from Silverdale, Notre Dame, Red Bank, Hixson, Brainerd, Baylor, Lookout Valley, South Pittsburgh, Signal Mountain, Chattanooga Christian, Marion County, and Sale Creek.
Readers can view the latest sports updates on the sports center page. This is where schedules, scores, and rosters will be posted.
Extra Innings: Defense Plays Key Role in Pounders' Three Game Win Streak
Bear Bryant, who is recognized as one of the greatest college football coaches of all time once said, "Offense sells tickets, but defense wins championships." That saying has been taken as gospel by much of the football community and if it holds true for the 2021 Central High School football team, the Pounder faithful are in for an exciting ride.
Head Coach Curt Jones' squad is currently on a three-game winning streak in which they have knocked off region opponents Soddy Daisy, Hixson, and Red Bank in consecutive weeks. In those three games, Central has outscored their opponents by a wide margin of 81-28. Perhaps most noteworthy in those games, the defense has racked up seven turnovers and five defensive touchdowns. Of those 81 total points, 30 have been scored by the defense.
Coach Curt Jones had this to say about his team's performance, "Our defense has played up to the expectation that we set at the beginning of the year…"
In week four of the 2021 campaign, the Pounders stomped Hixson by a score of 40-0 with all those points coming before halftime. Much of that success can be attributed to the defense led by Chris Nichols, Londen Martin, and Donovan Smith. The Central defense came up with four turnovers, and more remarkably, three of those resulted in Central touchdowns. Blake Brothers, Tyi Moseley, and Marquise High all had scoop-and-score fumble returns for TDs. 
The following week, Central's fortified D stood tall versus Red Bank. The Pounders upended their eight-year losing streak to the always-tough Lions as they came away with a 23-21 victory. The Central defense only allowed the Red Bank rushing attack, who average 340 yards per game, to 39. Holding the Lions running back Reco Trimble, who has collegiate offers from NC State, Arkansas, and Ole Miss, was no small task. Both linebacker Reggie Wadley (five-yard return) and defensive linemen McKinley Bacon (65-yard return) took back fumbles for a touchdown. Shortly after, Ronye Watson had a 75 yard completion to Donovan Smith which set up for a two yard touchdown run. 
"We knew what was at stake [versus Red Bank]… We all knew that we could rise to the occasion and we made it happen…" shared Senior Tyi Mosely. 
This week the Region 3-5A Clinton Dragons (3-2) will travel down to Etter Farmer Field and Central War Memorial Stadium to take on the Pounders in a non-region homecoming battle.  Can the defense continue to ring up touchdown after touchdown?
"I know that are going to keep them out of the endzone and keep putting points up on the board from the defensive side of things…" said defensive linemen Chris Nichols.
Now in first place in the Region 3-4A standings, the Pounders will try to add onto their momentum and clinch their first region title, and make it to their first state playoff game since 2019.
When Coach Jones was asked about his expectations for the game vs. Clinton, he explained, "We have got to come out and play hard, and play solid, swarming defense."
Readers can view the latest sports updates on the sports center page. This is where schedules, scores, and rosters will be posted. The Digest will continue to bring the latest coverage and updates as the 2021 season progresses.
Leave a Comment
Extra Innings: Pounders Football Eyeing Home Playoff Game
FOOTBALL POUNDERS HUNT HOME-FIELD IN PLAYOFFS
It's been three years since the Central Pounders football team welcomed fans in for a first-round playoff game. In 2018, the Pounders fell to visiting Sullivan South, 39-12, after finishing the regular season with a 5-6 record. Ironically, those same two teams faced off the previous year with Pounders coming out on top of a 45-42 score. After the Pounders defeated the Rebels, they fell the next week to state power Greenville, 49-12. That year, the Pounders wound up with a 7-5 showing- their lone winning season in four years.
Pounders coaches, players, and fans all hope that the newly shuffled region classifications will prevent an early exit this year. Already having clinched a winning record, the Pounders' goal is not only to host a playoff game, but to win it.
"Our goal right now is to finish the season with two wins and gain momentum for a long playoff run," Head Football Coach Curt Jones said.
After a senior night tune-up against visiting East Ridge on Oct. 22, the Pounders will have a week off before hosting the first-round playoff game. Seniors will be recognized prior to kickoff at 7:30 p.m.
This season, the Pounders knocked off region opponents Soddy Daisy, Hixson, and Red Bank in consecutive order. That historic win streak unfortunately came to a grinding stop last week when the Pounders traveled to East Hamilton and came away with a 44-27 loss. Heading into the bout with the 'Canes, the Pounders were in first place in the region, but that loss knocked Central out of the number one spot, and into second.
As it sits now, the Pounders will most likely host the Macon County Tigers or the Stone Memorial Panthers here at Central War Memorial Stadium on November 5.
"When you get to the playoffs, everybody is solid… we've got to be prepared for whoever we play," Coach Jones continued.
CURTAIN FALLS ON VOLLEYBALL CAMPAIGN
The Lady Pounders wrapped up their regular season schedule on September 28 with a 4-6 record. That earned them the fourth seed in the district tournament and a first round matchup with the fifth seed East Ridge Lady Pioneers. The Lady Pounders made quick work of the Lady Pioneers and moved on to face the perennial powerhouse East Hamilton Lady Hurricanes (24-5 regular season, no. 1 seed in tournament). Despite Central's momentum, they lost to East Hamilton 3-0, marking the end of the 2021 campaign.
This was the final game for Addi Wellington, Carmen Breitenbach, Mikiah Tate, and Makayla McCarthy, who are seniors playing their final season.
GIRLS SOCCER IMPROVES
This season, the Lady Pounders finished up with a record of 2-7 after going 1-7 in 2020.
"I think as the season progressed, the team did a better job at playing together. We are graduating four core players, but we have a lot to look forward to next year with our sophomores like Emily Colunga and Hannah Taylor," shared Head Coach Trevor Brittingham.
Seniors Janetth Colunga, Karleigh Schwarzl, Ashlyn Wood, and Melissa Barros wrapped up their soccer careers and will graduate in May.
Readers can view the latest sports updates on the sports center page. This is where schedules, scores, and rosters will be posted. The Digest will continue to bring the latest coverage and updates as the 2021 season progresses.
Leave a Comment