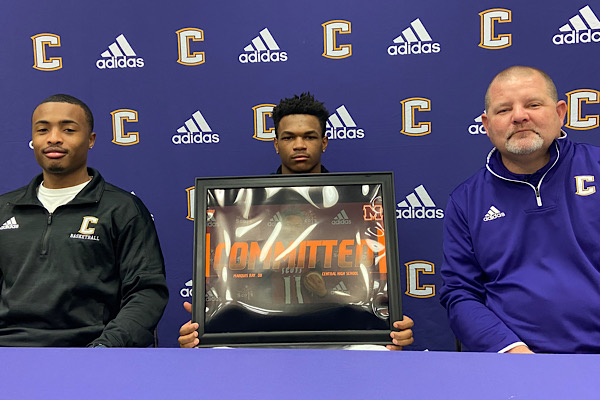 Senior Marquis Ray Signs to Maryville College on a Football Scholarship
Central High has recently recognized many seniors for signing or committing to colleges and universities for their exceptional athletic ability. Coaches and families could not be more proud for each of the students. They see it as a true achievement on their part as well as the students'. Senior Marquis Ray was no exception to receiving his own signing day, February 5, in the school's library. He officially signed to attend Maryville College this upcoming fall semester on a football scholarship for his excellence in the sport.
Maryville College is recognized as the third best regional college in the south; its academic department is highly favored with over 90 bachelor's degrees and focus on good education. The total 2019 fall enrollment was 1,148 students. This private liberal arts college in Maryville, Tennessee, is located between the Smoky Mountains and the city of Knoxville. The institution is associated with the Presbyterian church and is also part of the NCAA Division III.
Among the many supporters, Football Head Coach Curt Jones was among the most supportive for Ray. He started coaching Ray's junior year and has seen his potential as a teammate and individual player.
"I'm very excited for him. Any time we have a young man that gets the opportunity to go to college already paid for is a blessing," said Coach Jones. "Him getting signed and getting to be a part of signing day was motivation for the younger group to get them motivated as well."
Ray was accepted with a 2.5 grade point average and will be able to attend at no cost due to his academic and athletic ability.
His full commitment to football, where he took part as cornerback, led him to further his athleticism into a college setting. He ultimately decided on Maryville among the many different colleges wanting to recruit him.
"He had several offers, but this one made the most sense for him and his family. I think he made a great life choice," stated Coach Jones.
Any sports fan has a player they look up to for inspiration, Former Football Athlete Kameron Chancellor is an inspiration to Ray. He is not a Seahawks fan, but he enjoyed watching Chancellor's plays and determination to continue working hard. It encouraged him to become a better player himself. Ray is most proud of Central's win in the regional championship his junior year during the 2018 season.
"Getting some wins and winning championships felt great. We came close to the regional championship [this year]. I feel like we could've done it this year, we just didn't have the players," Ray stated.
Ray plans to pursue a career in engineering; he has already begun to experiment in that field by attending the new Harrison Bay Future Ready Institute, meant for those willing to continue their education in the field of technology.