2019-2020 Wrestling Season Ends With Successful Victories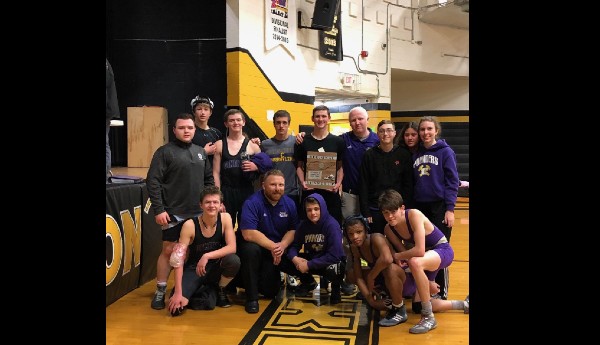 Wrestling had a very intense season this year; many students were able to represent Central at the state level and many more in the regional level. Now that the season has come to an end, the team finalized with an overall score of 10-11 in the dual meet competitions.
"We went from not having a single medalist in our first tournament to qualifying six wrestlers for the state tournament," stated Wrestling Coach Ryan Mallory.
A couple of outstanding players this year were Senior Donavyn Walker who won his first tournament championship at Coahulla Creek High. He received his first state medal in fifth place. Another wrestler was Freshman Randal Gray who placed third place at the Ramsey Rumble late January. Gray also qualified for state and Senior Jack Neely repeated as region runner-up. Lastly, Sophomores Noah Pinion and Jordan Wright got the chance to qualify for the state tournament as well.
The best performance was seen at the regional tournament, six out of their seven players went to state and placed in the top four. Seniors Walker, Neely, and Wright received second in their weight class, brothers Jordan and Jacob Wright received third, and Pinion finished fourth.
They wanted to meet many goals this season such as: competing for the Region Four Dual Meet Championship, finish in the Region Two Traditional Tournament, and have all their players qualify for the state tournament. The goals they did meet was placing second at Hixson in the Region Four. In the Regional Two, they finished fourth against Hixson, Alcoa, and Upperman. Lastly, six out of their seven players went to state and placed in the top four.
Three of the seniors will be leaving the team. Their departure will really impact the success of the team. Six boys and two girls will be returning next year and are very excited to improve in the coming year. Mallory wants them to be more consistent on the mat, they are at .500 as a team but the goal is to be a .750.
"Hopefully, more boys and girls will become interested in wrestling and join the team. We can coach a kid to the state tournament. Getting them to come out is the challenge," concluded Mallory.