The Boys Basketball Team Introduces Brand New Line Up In hopes of a Successful Season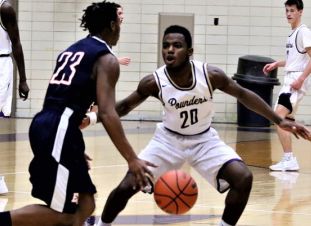 "Our Boys Basketball team will have a brand new look this year since we lost the majority of our players from the 2017-2018 varsity team," revealed Head Basketball Coach Rick Rogers.
According to Rogers, the team will mainly rely on Jermichael Walker to be the point guard, as senior T.J Payne is out due to a broken leg. Several other sophomores, juniors, and seniors will play valuable roles in the process. That includes, Donovin Taylor, Jailon Jackson, Jacobi Witcher, Isaiah Hayes, "Big Man" Wyatt Garrett, Quinnus White, Malcolm Tutton, Marquis Robinson, and newcomer Orlando Gearing.
Senior Darick Isom, will step up to become the new captain for the season as the team looks to rebuild what was lost.
"Working as a team and making the people at the game really hyped and excited is what I think we need to focus on this year," Isom insinuated.
"I think our team can improve every week and cause some upsets before the season is over, basketball is the best sport to play with your friends and I'm looking forward to being the leader [of the team] during my senior year," expounded Isom.
Junior Malcolm Tutton, adds on to some improvements that the team is focusing on for the upcoming season.
"We need to communicate more and slow down and make better passes. Half of our mistakes are mental," admitted Tutton.
Rogers and longtime assistant coach, Scott Phillips, will be joined by a new volunteer assistant coach, Avery Gallum, to complete the coaching staff. This will be Rogers' and Phillips' last year together since Rogers is retiring at the end of the season, and they do not plan on letting this get in the way of bringing home a victory each game.
"We will give our best effort every game to make Central proud," affirmed Rogers.
Every year at the start of a new season, there will be different challenges and improvements to work on. The team will continue to face those challenges and work on them,but each individual player has one thing that brings them and their love for basketball to the court every week.
"My favorite part about playing is how fast paced it is, and how everyone has to participate to make the game work the right way," shared Tutton.
"Every week or game day I get to spend playing with my friends is what I look forward to daily. It is my last year, so I know we have to make it fun, but also really intimidating for our opponents," concluded Isom.
About the Contributor
Meghan Duncan, Sports Editor
Hi, my name is Meghan Duncan. This is my third year on the staff and my second year being the sports editor. I have been cheering for 3 years at Central,...