The Central Sound of Chattanooga Gains Middle School Students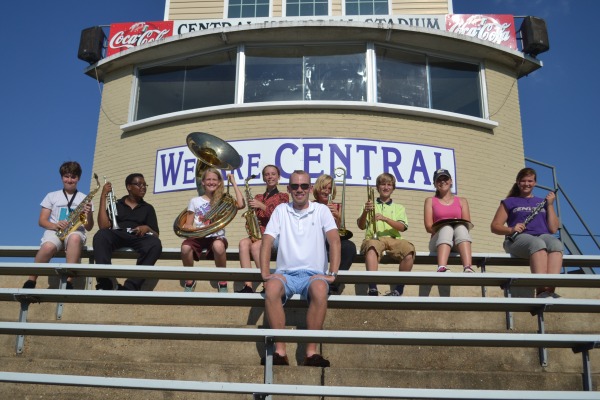 Usually, the Central Sound of Chattanooga consists of only high school students, but this year band director Joshua Bloodworth decided to add a new group of people to the band family. In this 2014-2015 school year, middle school band students in grades 7th and 8th who are zoned for Central received an invitation to be a part of the Central Sound.
"I wanted to give the middle school students an opportunity to really see what high school is like before they got here," Mr. Bloodworth said.
Every Monday, Tuesday, Thursday and Friday, students from Brown and Hunter Middle School come to Central High School to practice with the band. Students from Brown usually walk up to the school and students from Hunter ride the bus to make it to practice.
"I went to one of the Homecoming games last year, and I thought it was really cool; I wanted to play with the high schoolers. I just wanted to do it," said Morgan Frame, a current 8th grader at Brown Middle School.
"I have many friends who have been in marching band and who are now in it. I've also been in band since 6th grade, and I have wanted to be in marching band since I was in 3rd grade. So I figured it would be something fun to do," explained 8th grade Hunter Middle School student Matthew Davis.
The new middle school members of Central Sound of Chattanooga include Matthew Davis, Georgia Teems, Summer Hansard, Noah Cannon, Morgan Frame, Josh Bolton, Logan Hudgins, Lacey McKinney, and Frank Bradford.
"I talked to the middle school directors, and they said that those players are much better and advancing much more quickly than their other players because they are playing so much," Mr. Bloodworth said. "They are doing a great job."
The half-time show for this school year is entitled "Queen", and they will be playing iconic songs such as "Fat Bottomed Girls", "Bicycle Race", "Bohemian Rhapsody", and "We Are the Champions". The next home football game for Central is September 12, 2014. Come check out this new addition to the Central Sound of Chattanooga!
Leave a Comment