Central Welcomes New Students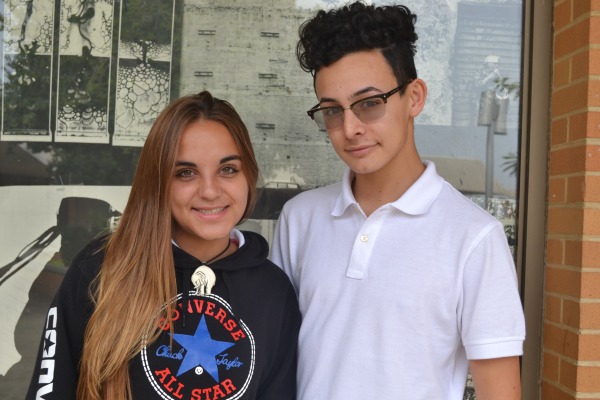 Central welcomes all new students, whether they are from out of the county, state, or country. Nina Rodrigues and Andrea Garcia are two foreign exchange students this school year, and Nick Cervantes transferred from California. Nina and Nick are both juniors while Andrea is a sophomore. Mr. Finley King, Central's principal, personally introduced himself to each new student and made sure they had a warm welcome.
Nick Cervantes transferred from Pasadena, California, and attended Alhambra High School. Moving from the west coast down to the south was a bit of an adjustment. Time zone and seasonal weather change did not prevent him from enjoying his first day at Central on September 3.
"My first day was good; I really liked it," Nick remarked amiably. He is part of the Business Academy.
Nina Rodrigues is from Uberlandia, Brazil, and has been attending Central for three weeks. She is a part of the Lady Pounders' soccer team.
Andrea Garcia is from Madrid, Spain, and attended Colegio Gaudem. Andrea runs cross country for Central.
"I'm not a huge fan of sports, but I love to run, so I decided to join the cross country team," Andrea mentioned.
Moving to a different country has its difficulties, such as a language barrier. Her primary language is Spanish, and her English vocabulary is slim. She will be staying in America for the school year and aspires to learn and improve her English. Her host family's interest in housing an exchange student was planted by Central's band director, Mr. Joshua Bloodworth, who introduced the idea by mentioning a young male saxophone player who wanted to come study in America. Kymmy Stacks' family contacted Cetusa Foreign Exchange Program and asked about housing a girl. Cetusa gave them names of eligible girls, and they chose Andrea.
"Since her stay here, we have been teaching her some English, and she has been telling us about Spain," Kymmy stated. "When she arrived, she was very jet lagged and still is."
Central High School has become the American high school experience for Nina and Andrea and a southern experience for Nick.
Leave a Comment