Central's Ruriteen Club Joins Forces with Ironman Chattanooga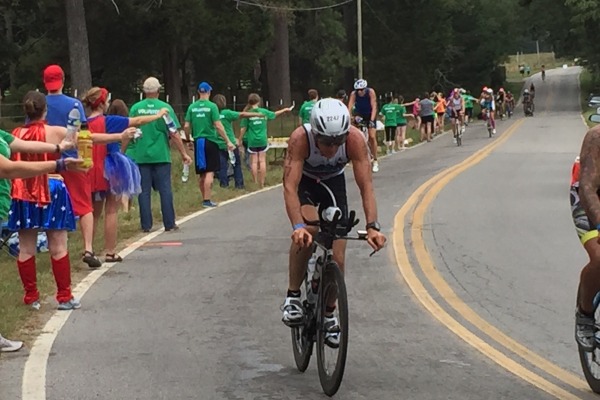 Although Ironman would be recognized as a top-selling movie series for many, in this context, it is a well renowned triathlon that spent its eleventh year here in Chattanooga. The organizers saw the city's "dramatic scenery, idyllic weather and low-key southern charm" as an ideal spot for the race.
Central's Ruriteen Club traveled to Lafayette, Georgia on Sunday, September 28, to volunteer with Ironman Chattanooga. The students executed any job given them with grace – everything from picking up trash to holding out cut up bananas to the bikers who zoomed by. Kathy Andrews, who was the volunteer captain for that specific station, was truly grateful.
"I've been told that this station was a great success. The organizers have been very impressed with us today as they have done their drive-bys and watched how clean we kept everything. Nobody got hurt volunteer-wise or biker-wise, so it was all a win-win!" she said excitedly.
Ironman is simply an athletic event, but they donate money to non-profit organizations that volunteer. They donated $50,000 to her cause, which was pancreatic cancer.
Senorita Rebecca Feher, one of Central's Spanish teachers, was taken back by how big the event was.
"We're in Georgia right now, about a hour away from Central, but the competition continues all the way to Downtown," she explained. The triathlon included a 2.4 mile swim in the Tennessee River, a 112 mile bike course through rural Georgia, and a 26.2 mile running course through downtown Chattanooga.
Raven Hammonds, senior and second year member of Ruriteen Club, felt a sense of fulfillment not only because of what the group was able to  accomplish, but also because of the participants' gratitude.
"I enjoyed seeing them ride their bikes and even say 'thank you', even though they were tired and breathless," she said happily.
The Ruriteen Club also plans to work with Race for the Cure, the Humane Society, Samaritan's Purse, and many other organizations in the near future.
Leave a Comment