The Central Sound Rises Above in Saturday's Competition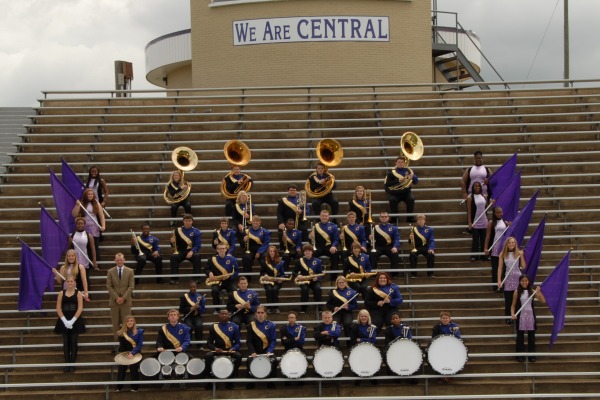 After countless hours of hard work and dedication put in at practices, game performances, and camp, The Central Sound of Chattanooga, Central High's own concert and marching band, is beginning to see the fruits of their labor – a second place triumph for band and a first place victory for color guard at the Bradley Classic on Saturday, September 27, at Bradley Central High School.
"By the time you get there (the competition), the work's done. It's more or less trying to convince the students to go and do what they've already been doing and show that they know what they're doing," said second-year band teacher Joshua Bloodworth.
"I had a fun time performing and watching all the other bands in our division do their show. Overall, I had a great time," shared Savannah Smith, a sophomore and the youngest color guard captain since its birth in 1969.
Competition scores were out of 100 points, and Central's score more than doubled from last year; they leaped from a 31 to a 63.
"Mr. Bloodworth said it was our best performance yet. I think we did excellent," stated Joshua Sizemore, a freshman saxophone player.
Song selection is key to ensure success in a performance, and the theme chosen for this year's season is "Queen". Joshua exclaimed that playing songs from the legendary band is his favorite part of the year thus far.
"The songs are harder, [but] I just love Queen," he said with enthusiasm.
While this year marks the beginning of a four-year journey for many bright-eyed freshmen like Joshua, it also signifies the last leg of the race for seniors like Andrew Thomas.
"I honestly keep forgetting that I'm graduating because Central has become my second home (band room being my room) for so long. On the other hand, I'm proud to say that I was a part of such a sublime music program for so long, and each musician [is] like my brother or sister," Andrew expressed emotionally.
A notable non-senior is Lily deCordova, a junior who conducts the entire band (a prestigious position normally held by a senior).
"I had to fill out a resume and [be] interviewed by Mr. Bloodworth. Then I had to audition by conducting through a piece of music in front of Mr. Bloodworth, the previous drum major (the conducting position), and another band director," Lily explained.
"They (Lily and Savannah) are very dedicated and some of the hardest workers. I think there's definitely a place for seniority, but I also want the best and brightest. Sometimes, in all parts of life, it's not just the older people who've been around forever who do the best jobs. I think it's a little more important to make sure the ones who know what they're doing and are excited about it are in place, not so much, 'Oh, well, they've reached twelfth grade, now they're in charge,'" Mr. Bloodworth noted.
"The're something special about teaching someone how to do something they didn't know how to do before. That's true for all teachers, but I get to see band kids grow up and mature because I have them for four years. And I always tell teachers that band kids really are the best kids that we've got," he added.
Central would not be the same school without its loud and proud band, and the Central Digest applauds their success at their competition and their hard work to make our school a wonderful place to be.
Leave a Comment