New Year, New Book!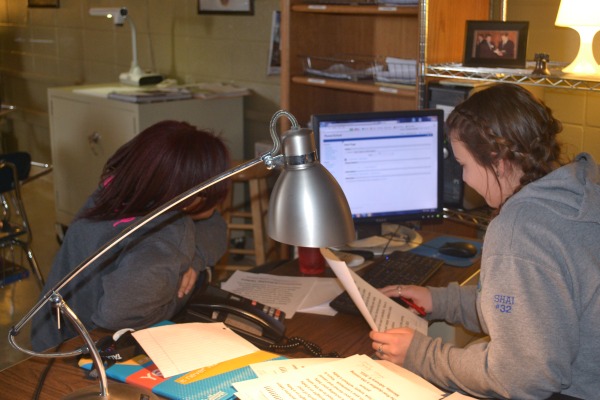 Mr. Shawn Seals and his yearbook class have a new design for this year's yearbook and are ecstatic to share it with everyone at Central High School. Lauren Rievley, a newcomer to the yearbook staff, explained how the 2014-2015 yearbook is different from any other.
"Each spread has its own thing, but the spreads are all pretty similar. The new book is based on chronological order," she shared. Lauren also hopes that everyone buys a yearbook.
The design for the cover of the yearbook is traditional purple and gold with Stan the Pounder Man's face. There is an argyle print in the background of the cover, and the back includes Central's seal.
"I like the class – the people in it really make the yearbook. Central is such a diverse school and everyone gets along. We don't have set jobs in yearbook. Seals gives us choices, and the first person that asks usually does that part," said Lauren.
Not everyone on the staff likes the changes to the 2014-2015 yearbook.
"It's not really my favorite kind of yearbook. It's different then previous years because it's divided by months instead of regular sections," remarked senior staff member Shai Markum honestly.
"We've added what the teacher teaches under their name. Each class starts off with a class officer and for every senior there is a formal, casual, and baby picture. All the page numbers are people holding up page numbers," Mr. Seals discussed.
Mr. Seals anticipates the yearbooks coming in around the beginning of May. The Central Digest is eager to get a copy and explore the new and improved Central High yearbook.