Teacher Treat Day Is a Hit for the Ruriteen Club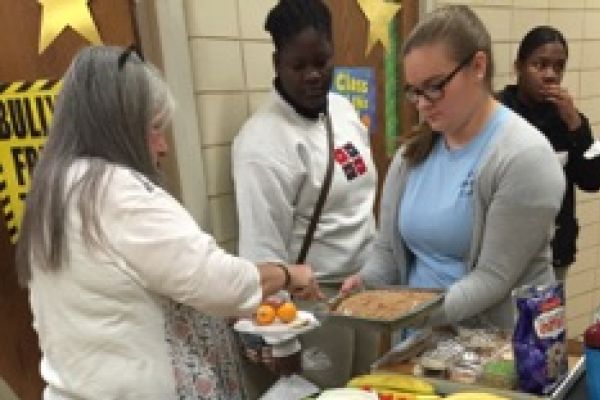 The Ruriteen Club is dedicated to serving Central High School and the Chattanooga community. They complete at least one service project a month, and December's was a club favorite. For the past two years, the Ruriteens have hosted a Teacher Treat Day – members bring in homemade goodies and load up a teacher's cart to serve the faculty of Central. The purpose is to encourage teachers and show them how much they are appreciated. This project is so popular for the club that they often hold it twice a year.
The first of the 2015-2016 school year was on Tuesday, December 8. The treat cart was nearly overflowing with foods ranging from homemade red velvet cookies and coffee cake to vegetables and Cuties. In addition, several students brought drinks and bottled water.
"It went well – everything went smoothly," stated project manager Jamie Key.
Many teachers were surprised by the cart while others knew it was coming and were expecting it throughout third period.
"It was amazing! The food was great, but the smiling faces that delivered it were even better," shared Ms. Melinda Martin, Central's librarian.
As much as the teachers enjoy their special day, the Ruriteen members love it even more. It gives many students an opportunity to pull out their baking skills or catch up with former teachers. One of the senior members is Nicole Long, whose lemon cake cookies were a hit. She also navigated the treat cart through tight doorways and up and down hills.
"I had fun being a part of Teacher Treat Day because I love to see how they appreciate the nice little treats, even if it's not much. [I love] being able to give the teachers and faculty something to brighten their day," said the senior.
Ruriteen sponsor Katy Burnette received several emails from teachers expressing gratitude towards her and the students who participated in the project. She affirmed that the day was a success and that the Ruriteens will have another Teacher Treat Day in the spring.