Buy Your 2017 Yearbook Today!
Seals Calls Yearbook Purchase "A Good Investment"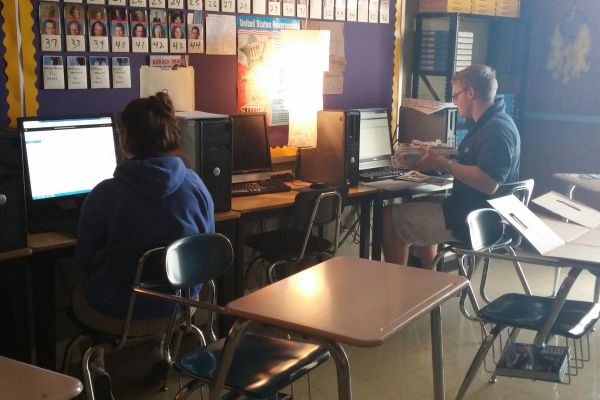 Every year the yearbook staff is hard at work capturing the school year's memories and jam-packing them into an exclusive book for students to keep forever. As your final four years of school fly by, you will be crossing that stage at McKenzie Arena in no time, and students everywhere will be jumping out of their comfort zone to mark things off their high school bucket list, so why not have pictures to prove that they actually happened?
For nine consecutive years straight, over two hundred yearbooks have been sold each year for only $81.93, including state tax. Adding your name and other extras are a bit over five dollars for each stamp, and can be added if the student wants a bit of extra personalization to really make it their own.
The yearbook staff can only order the amount that they sell each year, meaning absolutely no extras can be ordered after the fact. You can order yours from August until around February or March, and they are now available at www.smart-pay.com.
However, why should you order a yearbook? What is the big deal here?
It's a good way to preserve memories from high school. You can look back at what shaped you to be the person you are today, and makes sure those small little memories are kept in your mind for the rest of your life.
"I am always looking back at my high school yearbook," Shawn Seals shares. "I actually had my high school yearbook out the other day reading some of the things that people had written in it — it just brings back memories of things that I might not have remembered if I did not have my yearbook."
Facebook, Instagram, Snapchat, and Twitter might be an exclusive obsession amongst teens right now, but those are guaranteed to change over time.  Your yearbook will stay the same even as you grow, and it will be a good way for you to remember your high school days.
"It is a good investment!" concluded Seals. "I have all four of my high school yearbooks, and I am glad I have all of them!"
So what are you waiting for? You can grab yourself a 2016-2017 Central High School yearbook at www.smart-pay.com so you are absolutely guaranteed a lifetime of memories at the edge of your fingertips and you can mark that off your bucket list.