Brown-Bagging It: Some Students Prefer Bringing Their Own Lunches to School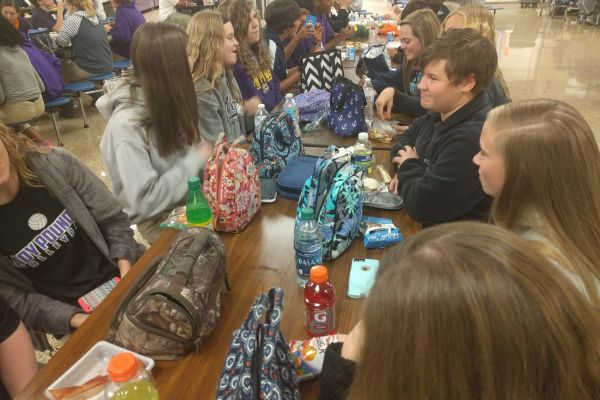 Hang on for a minute...we're trying to find some more stories you might like.
At lunchtime, the cafeteria at Central High School consists of two types of students. There are those who bring lunch packed from home and those who take on the cafeteria lunch.
"I bring lunch from home and eat the cafeteria lunch. The last time I ate the cafeteria food was last week," commented Brenden Walters, a sophomore at Central High School. "It is more convenient to do so." Walters also added that his favorite cafeteria meal is the cheese quesadilla.
Many students who "brown-bag it" admit that they do so because they either feel uncomfortable with the cafeteria food or that they are just simply are used to bringing their lunch everyday.
"The burgers are raw. The food is safe, it just doesn't look good," stated Audrey Parker, a sophomore at Central.
While some people bring their lunch, others are fine with the cafeteria food or may not have enough time to prepare it.
"I don't have time in the morning, and I'm lazy," shared Parker.
Students all seem to have different opinions of cafeteria food.
"I think the food is repetitive…very, very repetitive," admitted Walters.
Teachers also seem to struggle with the cafeteria's food.
"They're violating my 8th amendment. It is too cruel," joked Chris Kribs, a world history teacher at Central.
Saving money is another reason students bring their lunch. While a cafeteria meal is $3.00 and is affordable, some students are still frustrated that food is not free for everyone.
"It's gross. I prefer other things than the typical chicken nuggets. I get tired of eating the same thing every day," said Miranda Spainhower, a senior at Central High. Spainhower brings her lunch every day and even brings some for other students.
Whether students eat the provided school lunch or bring their own, it is up to the students to decide in which way they prefer to enjoy their lunch.
About the Contributor
Zeena Whayeb, Staff Writer
Zeena Whayeb is a current sophomore at Central High School and Best Staff Writer of 2017 at the Central Digest. When she is not thinking of a thousand...