Central's Cheerleading Program Goes Back to School's Founding Years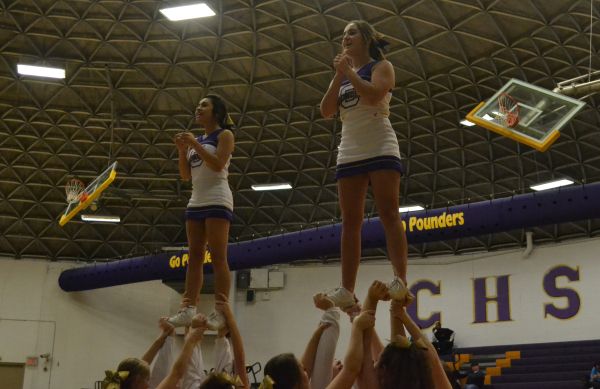 When Central High School was organized in 1907, cheerleading was one of the first extra-curricular activities that was added to the school.  Now, the cheerleaders attend every football game and basketball game to cheer on the Pounders and get the crowd excited, in addition to organizing pep rallies and promoting general school spirit. However, cheerleading is definitely different now than it was in the beginning.
"The cheerleaders represent the student body and get advice from the students to keep everyone excited, whether we win or lose," shared Brielle Farrow, Central's cheerleading coach and chemistry teacher.
Mrs. Brielle (Kennedy) Farrow was a Pounders cheerleader herself from 2002 through 2005, making her perfect for the job of coach. She started dance when she was young which was her segway into cheer. This is how many people start cheerleading, competitively or for fun. Cheerleaders have to be people who enjoy being in the spotlight and have lots of energy and stamina.
"[I would change] the time it takes. The girls put in a lot of time that they could be studying, hanging out with friends, or spending time with family. It really shows their dedication," revealed Farrow.
In 1910, toward the beginning of the Central High cheerleading team, there were many unique cheers such as this one:
"E-e-eyip, I addy I-ay, I-ay,
E-e-eyip, I addy I-ay,
I don't care what becomes of me
When our team gets to beating O! Gee!
E-e-eyip I addy I-ay-I-ay,
For Central all
Yell Hurray! Hurray!
Oh! it's joy and it's bliss
When we beat 'em like this,
E-e-eyip I addy I-ay."
When organized cheerleading first began, the "teams" were just groups of people that enjoyed the sport. Groups, usually males, would get together and come up with chants to yell from the stands, hoping to get everyone involved. Eventually, girls began to participate in the chants and later formed separate teams from the average crowd. Around 195o, cheerleading became a primarily feminine sport.
However, the girls still wore long sleeves, knee length dresses and hair in ponytails. At this time, cheer was purely for entertainment and to keep the crowd excited. Now, cheer is still about school spirit and pep, but it is also so much more. Cheerleading teams compete, tumble, and do stunts. It has become a physically and mentally demanding sport open to all.
"I think it's evolved from something that was classified as a sport only for girls to something so much bigger than that. There are so many different versions of a cheerleading: you have all stars, high school, middle school, and college. Now, it's something people from every gender can enjoy and it continues to grow and evolve," expressed Desiree' DeLorenzo, current co-captain of the cheer team.
A cheerleader's job is to use all their talent just to bring a little happiness to the people in the crowd. Next time you see a cheerleader, let them know they did a good job. It might even cheer them up a little bit.
About the Contributor
Matthew Davis, Assistant Editor
Hi! I am Matthew, and I am a Senior here at Central. I am a member of the Central Sound marching, concert and jazz bands (award winning bands, btw!). I...