Ms. Lauren Thomas Named Tenn. Lottery, News Channel 9 Educator of the Week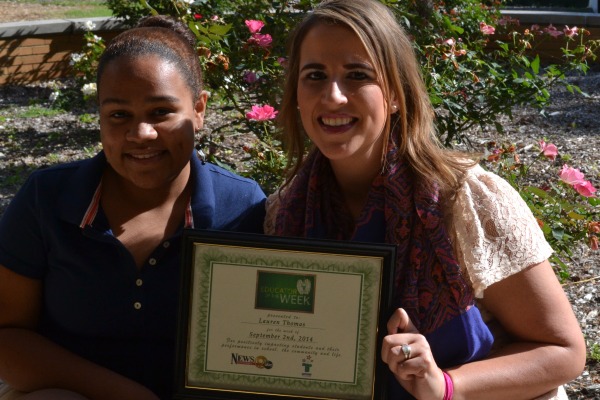 Ms. Lauren Thomas was awarded by Principal Finley King in 4th period on Monday, August 25, with a goody bag and an "Educator of the Week" certificate. Ms. Thomas nominated by Kiarah Maffett, a Government student as well as Ms. Thomas' student aide, for the Tennessee Lottery and News Channel 9 Educator of the Week.
"She [Kiarah] reiterates to me through her actions and my relationship with her that my kids are the reason that I do what I do," stated Thomas passionately.
Mr. King called Ms. Thomas during her 3rd period Psychology class on Monday to let her know that she had won News Channel 9 Educator of the Week and that the News Crew would be there in 20 minutes to award her the certificate, as well as get some footage for the Educator of the Week feature.
"'Do I have time to freshen up my face and reapply lip gloss?' That was my immediate reaction!" laughed Thomas. "And then it was a feeling of excitement, and I just felt just so honored and overjoyed."
Ms. Thomas has been working at Central High School for a number of years and is a favorite teacher among students. She provides students with a fun learning environment while still keeping them engaged in the subject.
"She [Ms. Thomas] makes learning more interesting by using funny stories and jokes," said one of Thomas' Psychology students Hannah Holmberg.
"My favorite part about teaching at Central is the fact that we have so many different types of kids. I fully believe that we are a Noah's Ark," said Ms. Thomas. "I have been exposed to so many different cultures, ethnicities, and religion, and I think that in itself has made me a better person."
View Comments (1)