Library Update Draws in More Students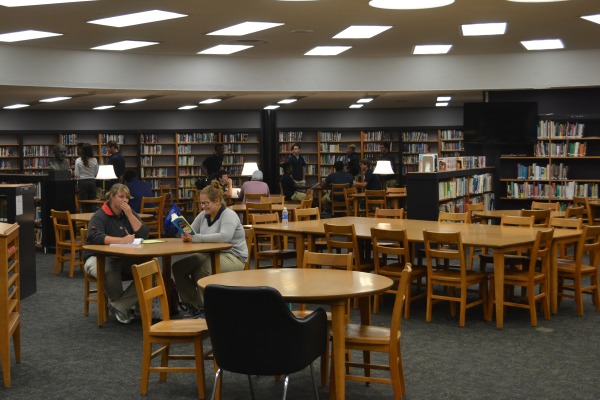 While students were away sleeping until one o'clock in the afternoon and laying out by the pool this summer, Central High School's library was undergoing some major renovations.  Many of the students at Central High may have walked into the library this year and noticed a few changes. In addition to the new paint and carpet, many of the book shelves were cut in half in order to provide a more open feel, all the leaks in the roof were patched up, and Central Alumni memorabilia has been put on display.  Ms. Melinda Martin, our Central High librarian, wrote a grant for $10,000, which was approved through Dollar General Stores. This $10,000 was used to buy paint and pay for all the construction that was needed in the renovation.
"I am very pleased with the library. We're not finished, because I would like to see more alumni memorabilia up and look more Central-themed, but I think we're on the right track, " stated principal Finley King.
The goal behind all the updates in the library was to encourage students to want to sit in the library and actually read a book, write a paper, do their homework, or just sit and enjoy the peace and quiet. Ms. Martin wants students to be comfortable coming and sitting in the library, no matter what the reason.
"You have to figure out what they're (the students) are interested in, because I think if you can just get kids in here, they'll check out a book," said Ms. Martin.
"I love the fact that now kids feel comfortable going in the library and actually reading. It's amazing to me that we've had a library for so long and kids wouldn't go in there and use it. Now we have a library that looks good, and they're (the students) using it," noted Mr. King
More and more students are found sitting in the library during a lunch period, before and after school, or a free period. These new updates are sure to provide students with a better outlook on our library, and, hopefully, encourage students to be more involved with it.
Leave a Comment