MTS Academy Granted $800 For Technology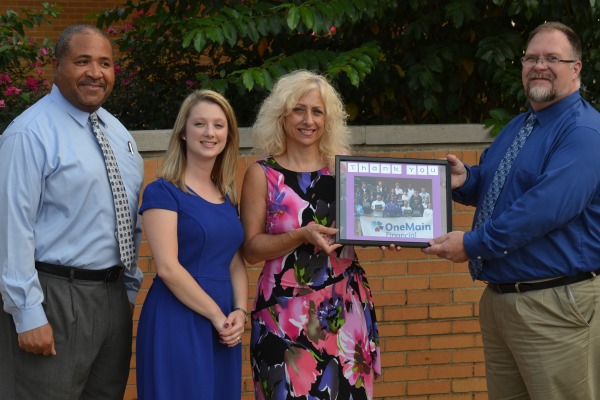 OneMain Financial on Lee Highway and Highway 153 generously granted $400 dollars each towards the MTS Academy and Mrs. Brielle Farrow's chemistry classes. Science is a growing subject and is creating more jobs and sparking more interest for many high school and college students. Technology is one of the main reasons for science's growth. With laptops funded by the grant money, MTS Academy classes will be able to accomplish many more things such as projects, papers, online website activities, and much more.
Mrs. Farrow is extremely ecstatic about the grant and is very grateful for the laptops.
"They allow us to do in class projects and to have internet access because many students do not have internet access otherwise. The computers are great for the science department," said Mrs. Farrow excitedly.
"I'm very grateful that we were able to acquire these grants to improve technology in the classroom," shared MTS Academy teacher Tina Cotreau, who will also be able to use the laptops this year.
With the power of technology, students will be able to learn much more and expand their knowledge in class.
"The laptops will allow us to do research for worksheets and class projects. I'm really looking forward to it," commented sophomore Emily Feist.
The donating company, which normally gives out loans instead of grants, was also enthusiastic about the gift to Central.
"OneMain Financial and its employees proudly support the local community and education," stated Betsy Corum, the branch manager at the Lee Highway location.
"We are committed to making the neighborhoods where we do business better places to live and work by supporting education," said Highway 153 manager Brenda Hyde.
Both Mrs. Corum and Mrs. Hyde, along with their employees, seem very eager and excited to see education and the community prosper from these grants. Mrs. Farrow agrees and assures that the laptops will be put to great use in many MTS Academy classes.