The Ruriteen Club Decorates East Ridge Life Care Center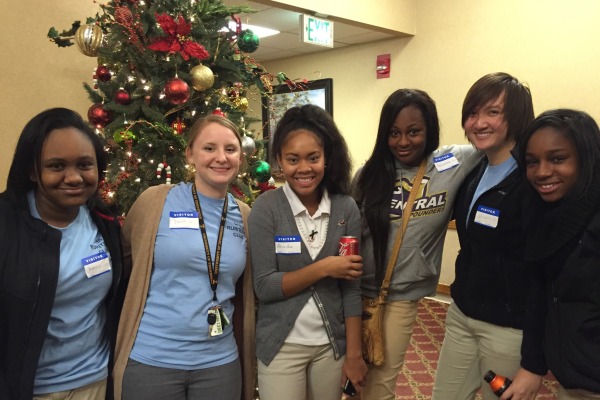 Christmas is twenty days away, and the spirit of holiday cheer is in full effect. Everyone is buzzing with excitement as they look forward to receiving money, the latest games, or the newest clothes. During this time, it is so easy to get distracted from what is most important in this season, which is showing goodwill to others. On Tuesday, December 2, the Ruriteen Club made a trip to East Ridge to adorn the Life Care Center with brightly lit Christmas trees, ornaments, and wreaths.
There are an array of different residents at the Life Care Center during the holidays. You have the cheery, the nonchalant, and of course the grumps, but all were truly grateful for the Ruriteens' work.
The Ruriteens started in the lobby, where they emptied a tree of Thanksgiving decorations and filled it with ornaments of all different sizes and hues. To top it off, they placed a serene angel at the point of the tree as a signal of peace for all who walk by. After that, they moved to the cafeteria, where they decorated yet another tree.
The best part of the day, however, was the wreath hanging.
Two students would walk into a room and ask,"Would you like a wreath on your door?"
The overwhelming excitement knocked the Ruriteens off their feet.
"Yes! Please! Thank you so much!" one elderly lady exclaimed before wishing them a "Merry Christmas".
The staff was equally as grateful.
"Thank you so much guys. You all did amazing!" said activities director Christian McDonald appreciatively.
Casey Jennings, a senior and a long time member of the Ruriteen Club, was so happy that she got to encourage the residents by decorating.
"I hope that as the residents go down the hall, they stare in awe. I hope they enjoyed seeing us because maybe they don't get to see their families as much as they would like to," said Casey passionately.
The Ruriteens have made decorating the East Ridge Life Care Center an annual service project. What better service than to spread hope, joy, and love during the most wonderful time of the year?
Leave a Comment