Coffee Comes to Central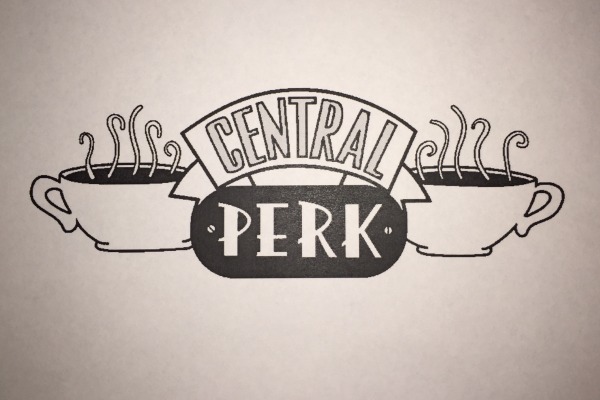 The 2014-15 school year has brought many new beginnings to Central – schedule changes, a more lenient dress code, and now a coffee shop in the E.Y. Chapin Library! Central Perk, inspired by the well-known sitcom Friends, officially opened for business approximately three weeks ago.
Plans for Central Perk began last school year, but some technical difficulties arose along the way. Despite having to rewire the cafe's room due to the large machines pulling excessive amounts of energy and not having a water line, the shop opened and Central's students responded welcomingly.
Melinda Martin, Central's librarian, joined us in 2012, bringing fresh ideas and prodigious projects to our library. Martin has already modernized the library by painting the walls with contemporary and chic colors. Thanks to Chester Bankston, our County Commissioner, the floors were also recarpeted. Before coming to us, Ms. Martin was the librarian at Bradley Central High School, where she started her first student-owned and operated coffee shop.
"The library is the focal point of the school – it reflects the staff, students, and community. I'm a servant to our students, I love helping them and getting to know all of them," says Martin. "Local school libraries get very little funding, but Central has been so fortunate. Without the grants we have been awarded, we wouldn't have any of this."
Within the next three years, the E.Y. Chapin family has planned to donate $17,500 for library needs. $15,000 of that will be spent on new books, and the rest will purchase new furniture. It is Ms. Martin's goal to acquire a conference table and tech savvy chairs that will allow you to plug in and unwind.
Toolbox for Education, a program sponsored and funded by Lowe's, provided Central with $5,000 to make Central Perk happen. With this grant, Martin purchased several industrial-sized coffee machines and top-of-the-line coffee products. In the shop, students have the option to buy a coffee, iced coffee, cappuccino, grinita, or hot chocolate; all of the items are $1.50 or less.
"Ms. Martin has done so much for our school in a very short period of time. She came to Central with great ideas, and she's actually carrying out her plans. She genuinely cares about preserving the rich history of Central, and you can see that all around the library. I think Central Perk is so cute and a wonderful concept. I will definitely be visiting frequently," shared senior Adrianna Martinez.
Central Perk gives students more options than what the vending machines have to offer. Many students enjoy the shop because it's a great value and they don't have to stop at the gas station before school. One problem Martin has discovered though is that some students are receiving numerous tardies due to the coffee. With breaks in between classes being longer last year, this issue wasn't anticipated when plans began. Ms. Martin won't sell coffee during lunch because she fears that some students will skip eating a meal and instead have an iced coffee, which leaves breaks in between class the only opportunity for sales. However, Martin hopes that a new rule can be constructed and that teachers will accept a coffee purchase as a tardy pass, because after all, the money earned will be for their benefit.
It is expected that by the end of the school year, Central Perk will be making profit. At this point, all proceeds go towards supplies for the shop. Once profit is being made, the money will be going directly back into the school, funding teacher projects and school revamping.
"This has been a really fun experience. I enjoy being a part of something new at our school, [and] I think it's really cool that we're trying different things," says Ashton Cook, a library aide who also doubles as a Central Perk volunteer cashier.
Students are loving this new addition to Central and are anxious to see what other updates will occur in their time at school. What's even better than a cappuccino is that by us buying these items, we're working to ameliorate Central High School, one cup at a time.
Leave a Comment