Waldon Family Suffers Tremendous Loss After Tragic House Fire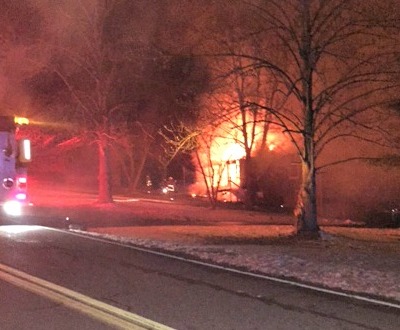 It was 10:30 p.m., and Central student Brianna Dobbs was laying in bed listening to music. Her relaxation was interrupted by the sound of shattering glass.
On February 26, the house of Brianna Dobbs, her younger sister Haley Dobbs, Kenny Waldon, and Kim Waldon was abruptly burned down. The family's oldest daughter rushed through the house in the midst of the fire in panic.
"I ignored it for a second. My cat actually looked up weird and that concerned me," Dobbs explained. "I listened again and heard the sound of glass. I thought somebody was breaking into the house."
In shock, Brianna ran to her father and told him that there was somebody trying to break in.
"I looked out front and saw a truck parked in front of the house. I figured those were the people trying to get inside," she commented. "I then screamed at my dad that he needed to go see what was going on in the living room."
"He helped me get my mom up and out of the house, but Haley wasn't even home. She was at a friend's house," Brianna explained, "but my mom was in shock, I guess. She was freaking out, trying to find my sister."
After the house caught fire, two young men and two young ladies were driving by. The group stopped at the house and called 911. Central student Jacob Gray, Mason Chamberlin, Central cheerleader Jana Cannon, and Cameron Baltimore were at the right place at the right time.
It took 20 minutes for firetrucks and police to arrive at the house, but luckily, the family had already made their way to the neighbors' house across the street.
"As soon as we saw it, me and Mason talked. We said, 'We can't just drive by here and then hear on the news some people died in a house fire'. We had to at least try. I wish we could have done more," Gray stated.
"I would want somebody to do the same thing if it was my family," he added.
The young men said they were beating on the door, trying to get the attention of the Waldon family. Dobbs and her father, Kenny, however, said that it wasn't what got their attention. Brianna expressed how thankful they are for the effort put in by people they didn't even know.
"It was really sweet of them to stop and try. The girls also gave my mom and me some warm clothes for the night because all we had were our PJ's. They gave my dad a coat, and that was really kind. It's great to know that people still care about others," Dobbs remarked.
"We really appreciate all the clothes and what people are doing for us. It means a lot," thanked Mr. Waldon.
It took approximately four hours to put out the fire, and to the family's dismay, the majority of their things were destroyed. The house sustained about $200,000 worth of damage, but aside from the money value, the family lost a lot of valuable things.
"It was hard, no longer having some of the things I used every day, but I'm just really glad that everybody is okay," Dobbs said. "I'm really happy that we were able to recover some of my jewelry from my jewelry box. That meant a lot to me."
A few other things were saved such as their lawn mower, truck and trailer, and the old washer. The family was also able to keep one of two of their beloved cats. The other kitten, Cupcake, wasn't as fortunate.
Many people are joining the Waldon family in being grateful that they're all okay but also feel the sorrow and loss the family is dealing with. They recently moved into a rental home, out of a hotel, and are slowly getting back on their feet.
Leave a Comment