Central Students Have Access to Ancestry.com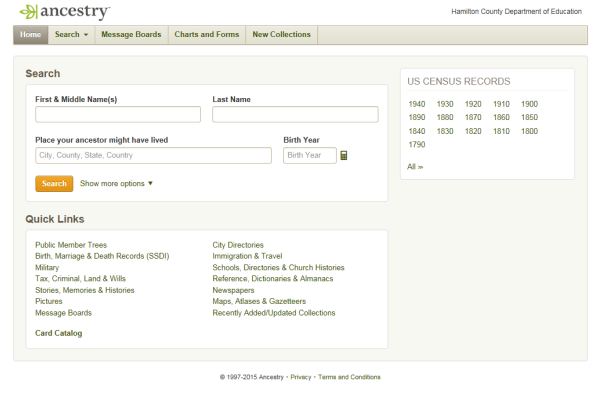 Central students now have access to ancestry.com on school campus for free! Hamilton County has recently added this special feature to all school computers. This website is exciting for students who want to explore their ancestors and for teachers to use in their lessons.
"Ancestry can be used to look up past documents and photographs," history teacher Tina Staton explained.
"I just finished signing up the whole school for access to ancestry.com. I don't necessarily have any plans to use this site at this time, but in case anyone else wants to use a genealogy project or might want to look up info for a history lesson of some kind, we will have access, but only from inside the building," computer teacher Jennifer Haverlah explained.
Central's librarian, Melinda Martin, gets on the website to track Central artifacts and their owners.
"A lot of times, I'll go on [ancestry.com] if I find an item [such as] a jacket or picture and it has someone's name on it. A lady's journal was turned into me from 1923. I haven't yet pinned down her ancestors, but I plan on returning that," shared Ms. Martin.
Students who can prove that they are one-eighth Native American can get scholarships for college.
"I found my great-great-grandmother, who lived during the Great Depression, and found out lots of information about my family history," Central student Philip Bonnington said.
Having a family member who fought in the Revolutionary War makes a student eligible to join the Daughters of the American Revolution, which can earn you a $1,000 scholarship.
"The school is such a melting pot of different people, which is interesting when you look in the yearbook because you see all kinds of different races," Ms. Martin noted.
All these things can be further explored on ancestry.com. A basic account for ancestry.com usually costs $26 per month, but Central students have the privilege of using the site for free. Take advantage of this amazing opportunity to learn about your past today!
http://www.ancestry.com/