Central's Basketball Program Fund Raises by Advertising Businesses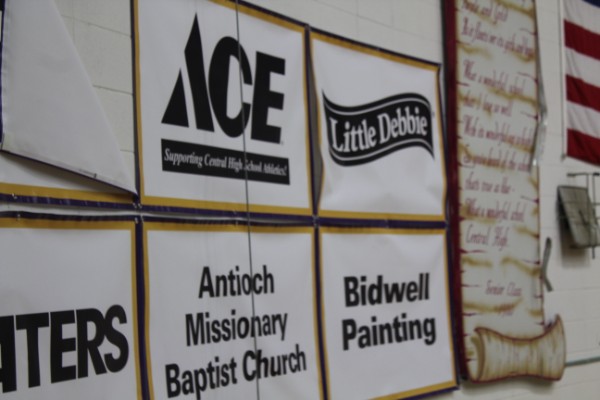 As the basketball season continues, Head Coach Kantonio Davis is making an effort to raise money for the boys basketball team by sponsoring businesses. Banners placed in the school's gym will demonstrate the names of the companies that purchased an ad. Davis has given out flyers that contain advertisements available at $300 to help the Pounders. For those not interested in a sponsorship, donations are greatly appreciated as well.
"Our primary goal this year is to buy a basketball shooting machine to help train the guys. It will be mostly utilized on the off-season, but we can also use it during the season as well," Davis said.
Open-gym for the players begins early in the school year. They are not able to practice as an official team, so purchasing this will benefit the players and will help them improve for the season.
"What people don't understand about athletic process is that the county doesn't give us money for athletics, so we have to raise it ourselves," Davis stated. "Before anybody walks in [to the basketball games] we are charged nine-hundred dollars, when people try to sneak behind the back doors they're actually taking money away from us paying the bills. The games are not greatly attended all the time, so when they're not attended our account is used to pay for the services of the security guards and officials," he added.
It is a program goal for the players to sell at least one advertisement each. So far families have mainly contributed to the program.
"So far we have sold around seven [advertisements]," stated Senior Blaine Turner.
"I really think it would help the team," added Senior Alphonso Few.
Each banner, measuring three feet by five feet, will be easily visible to the incoming daily crowds of students and staff. At every game, new spectators will be able to see the businesses typed in bold black letters with the school colors trimmed around the banner. Banners usually range from fifty to sixty dollars, so most of the profits will go straight to the team.
Please see or email Coach Davis for additional questions on sponsor ships or donations at davis_kantonio@hcde.org.
About the Contributors
Cassandra Castillo, Copy Editor
Hey! I'm Cassandra and I am a senior here at Central. This is my third year on the Digest and I have taken position as Copy Editor. My pastimes include...