Alumni Spotlight: After Graduation, Ryan Poole says Sewanee 'Still Feels Right' as Counselor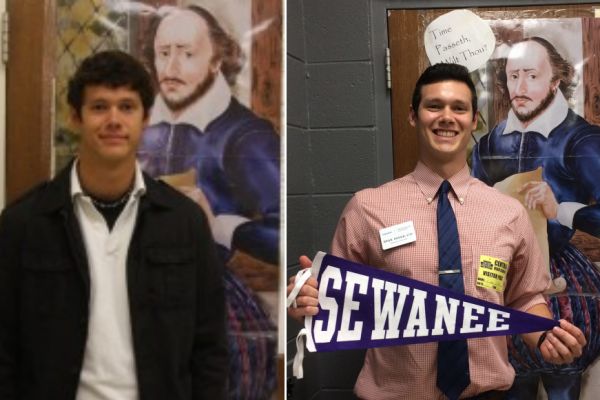 Deciding where to attend college is a puzzle that is challenging for many high school seniors. With thousands of choices, one decision determines their home for the next few years of their life. After post-graduation internship at Sewanee's Office of Admissions, Central class of 2013 grad Ryan Poole knew helping upcoming college students was something he enjoyed.
"To put it simply, I loved my college experience at Sewanee. Even though The University of the South was only an hour away from home, it felt like a whole new world to me. One of the many things that I loved about my life as a college student at Sewanee was meeting people from all over the world. For instance, I had a class with a girl from Alaska, one of my summer roommates was from Zimbabwe, and some of my best friends came from New Jersey, Chicago, Atlanta, and D.C. As for what I did to keep busy in school, I majored in American Studies — I couldn't decide between history and English — and minored in Philosophy. I played baseball all four years and was one of three captains my senior year," explained Poole.
After four years at the University of the South, Ryan Poole decided to stay just one more summer.
"The day after graduation, I started a summer internship in Sewanee's Office of Admission. While I was an intern, one of the other admission counselors landed her dream job at a Study Abroad organization that sends students to Scandinavian countries. Since she was transitioning out, I moved up and turned my temporary internship into a full-time job. As an Admission Counselor, I travel to schools and college fairs to speak with high school students about Sewanee. I travel mostly through Alabama, Mississippi, South Carolina, and East Tennessee, but I also spent some time in Florida this year," shared Poole. "The other significant aspect of my job is that I read applications and have a say in shaping the incoming class. The work is really fun and fulfilling, so I see myself sticking with it for a couple of years. I eventually want to move over the high school side and work as a college advisor or (high school) guidance counselor, but I don't have any time-frame for that yet. I'll move when the time seems right, but for right now Sewanee still feels right."
While Poole currently resides in Sewanne, his experiences in Harrison at Central High truly prepared him for what was coming up next.
"I felt ready for Sewanee's rigorous curriculum because I took a lot of Honors and AP classes. There was definitely an adjustment period when I moved to college, but the fact that I was able to talk with professors who knew my name and were willing to work with me on papers and tests was ideal. I got to know teachers at Central really well, and I think this was a really helpful aspect of high school that prepared me for college. Realizing in high school that my teachers were more than just authority figures, that they were good people who wanted to help, allowed me to mentally break down the barriers between teacher and student. This gave me the confidence and wherewithal to approach my college professors just the same – as people who wanted to make me a more well-rounded person," stated Poole.
Additionally, Central's extraordinary faculty is one of the contributors to Pool's successful post-high school career. Many of those teachers are still educating high school students throughout the walls of Central High.
"Unfortunately, Mr. Daum is not at Central anymore. He was my favorite teacher because he had a liberal arts approach to teaching all of his classes. Mr. Potter, Mr. Cantrell, Ms. McBryar, and Ms. Thomas were all favorites of mine, as well, but I think only two of those four are still there. I became close with Ms. Staton too because I went with her and another student one summer to Ireland and Scotland on an EF Tour. Coach Carter was my baseball coach for four years, so I count him as a favorite too," commented Poole.
Memories dot the minds of the thousands of Central High School alumni, with new memories being formed everyday.
"All the time I spent playing baseball on Central's field will always make that one of my favorite spots in the world. I also have fond memories of Mr. Potter intersecting math with jokes to make precalculus and statistics more enjoyable. Most of my best memories from Central revolve around the friends I made. I am lucky enough to still be close with a number of them," recalled Poole.
The four years of high school will go by faster than anyone can blink. While aiming for the highest achievement is always a goal, Poole believes the experiences outside of students' comfort zones are what really will help with life outside of high school.
"If you're trying to get into college, but especially Sewanee, take honors and AP classes. These show that you are pushing yourself academically, which is a good sign to admission counselors. I think that one of the best things a high school [student] can do to prepare for college is to get out of your comfort zone. Go on a trip or do something that gets you to interact with people who have different backgrounds than you. Anyone who is on the fence about taking one of Ms. Staton's trips overseas should definitely do it. I had to choose between taking this trip or getting my first car, so I wasn't sure about it myself. Ultimately, I went on the trip, and it was one of the best decisions I ever made," concluded Poole.
Poole was a candidate for Mr. Central, homecoming king and served as one of the founding members of the Central Digest, serving as the first-ever copy editor.