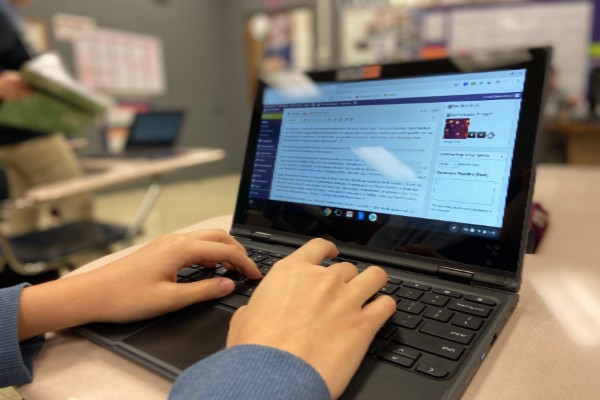 Students Can Buy $50 Chromebook Through Tech Goes Home Program
Chromebooks are used everyday at Central High School and are essential to the learning process. They are also used all over Hamilton County. School is now hard to imagine without students using the technology available to them. Though Chromebooks are given to Central students, they are not able to keep them after the year ends, which may cause a problem for seniors who are going to college without a laptop. Additionally, there are a lot of useful websites that are blocked by school computers.
However, if students put in a mere 15 hours of online learning, they are able to take home a Chromebook for $50. Along with a Chromebook, if a student's family meets a certain criteria, they could be eligible for low to no-cost internet service. This program is called Tech Goes Home, a non-profit organization located in Chattanooga, Tennessee. Chromebooks usually retail for around $300, so purchasing a Chromebook for $50 is considered a steal. Shea Brazeale and James Snyder both lead this program offered by Central.
The 15 hours of web based training will take place at Central after school. The sessions will last for two hours over the span of seven days, and, then, an hour for the eighth day. To ensure that the program and training hours do not become tedious, Brazeale and Snyder decided on working two days a week. If a student misses a day, they are able to make up the hours whenever they are available.
"The training includes some pretty fun stuff. Some things we will be hitting is how to use Google apps, especially for college bound students. There is even an online security portion of the class so people can't break into your accounts," Brazeale explained.
However, if a student is not a senior, or does not drive, a parent is required to be present at the training.
"We are kind of trying to keep seniors in mind for this $50 Chromebook. If someone who wasn't a senior wanted to come, the rules are [that] the parents have to attend as well," Brazeale stated.
Brazeale and Snyder are planning to start the training before spring break, near the beginning of March. The pair can accommodate up to about 30 students. However, if more wanted to participate, a class during the summer would be offered.
The deadline for signing up for the class is quickly approaching. Brazeale and Snyder are both eager for this program and encourage students, especially seniors, to sign up using this link provided: https://forms.gle/c3C5kDP4fvQduKN49