21 Club Members are Rewarded with Dress Down Days for High ACT Scores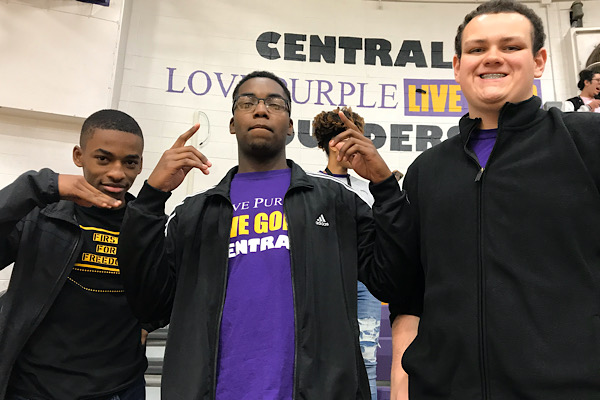 On February 5, select seniors of the Class of 2020 were called into the library for induction into the 21 Club. In order for a student to be eligible for this distinction, they must be a senior and make a composite score of 21 or higher on their official ACT test, as a minimum score of 21 qualifies seniors for the Tennessee HOPE Scholarship. This year, the 21 Club is proud to have 41 members.
"Congratulations," Principal Phil Iannarone addressed the students, "This is an honor, and I am very proud of all of you for doing what is expected of you and setting a great example for the rest of the school,"
As a reward, inducted students are allowed to dress down each Friday, so long as they wear jeans and a Central themed shirt. The jeans cannot have any rips or holes in them, and they must be neutral colors like blue, black, gray, and navy. Students can also wear khakis if they prefer. Sweatpants, on the other hand, are strictly prohibited.
"This is an opportunity for the seniors to benefit from all their hard work," College Adviser Stacy Alexander prefaced the assembly.
Students are only allowed to dress down if they are wearing their designated lanyards. Each Friday morning, students are expected to check in with Alexander, who will give them their lanyard. However, the lanyards must be returned by the end of the school day to prevent students from losing them.
"I feel like [the 21 Club] is an alright way to reward the students who meet the college-ready standard," revealed Senior 21 Club Member Grant Scutt. "I wish we had a few more options as far as clothing, but that's a new administration thing."
Although this is a nice incentive, Alexander and Principal Iannarone stressed that the 21 Club's privileges can be revoked at any time if a student fails to follow the rules.
Students were shocked to find out that hoodies were completely banned from Central at the beginning of the 2019-2020 school year. Each student was even assigned their own locker to store their outerwear in for the entirety of the school day.
"We've battled you all year over hoodies, but now we will come to a compromise," Principal Iannarone said.
He announced that students can wear hoodies as long as their hoods are completely out of sight, being tucked or rolled into their hoodie. If a small part of the hood is still visible, it must be put in a locker.
While school administration understands that hoodies are comfortable, especially in the winter months, they still expect students to follow the school dress code if they want more freedom. Wearing earbuds has also been an issue plaguing Central's hallways.
In the past, members of the 21 Club were allowed to leave campus for lunch if they had their own car. However, that is no longer permitted this year due to rising concerns of student safety on Highway 58.
"It's a liability," Principal Iannarone said, citing a recent, fatal accident involving a pick-up truck and student pedestrians as an example of the dangers that students may face off campus.
Student safety is the administrators top concern, so they try to prevent as many accidents from happening as possible. Also, 30 minutes, the length of each lunch period, is not a lot of time for students to drive to get food, eat it, and come back to Central before the next bell.
In the end, the seniors are glad that they have been entrusted with such privileges, and hope that the dress down incentive motivates others to follow in their footsteps.