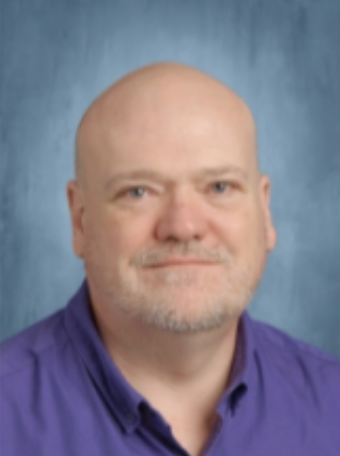 Lee Wright is a new CTE teacher at Central High School. He teaches Digital Design I, Journalism I, II, and III, and Intro to Business and Marketing. This is Wright's ninth year of teaching. Wright enjoys creating programs from the ground up and is particularly keen on journalism and video production. His greatest achievements as a teacher are seeing his former students excel in graphic design and filmmaking, as well as winning the Chattanooga Theatre Center's Festival of New Plays competition in 2008.
In five years, Wright sees himself still teaching at Hamilton County, hopefully leading a journalism and video production/filmmaking program. Wright spends his time outside work reading, writing, watching TV and movies, and making short films with his thirteen-year-old son. He is also a proud pet owner of two dogs and three cats. 
Wright's educational journey has been a combination of formal education and professional experience. He dropped out of UTC as a junior and jumped straight to work at Channel 12, where he learned more than he thought he would in school. He completed his bachelor's degree at Ashford University and his Master's in Creative Writing at the University of Denver. Wright is currently taking CTE certification classes at UTC and has aspirations of getting full teacher certification and teaching some English classes. Above all, Wright is most passionate about creative writing and collaborating with others to create fresh short stories, novels, films, and other forms of original content.