Central's EOC Test Scores Show Some Improvement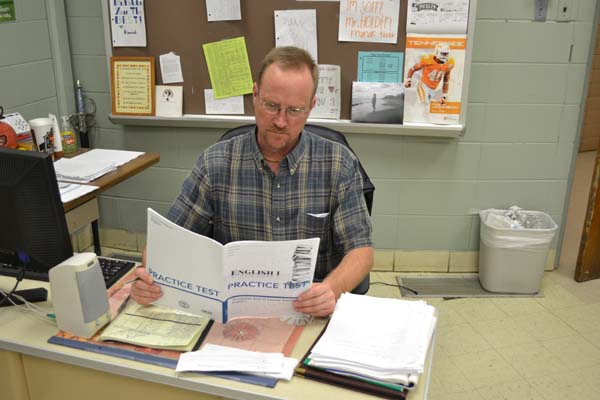 End-of-course test scores are beginning to trickle in from last semester and the results of the state-mandated exams indicate improvement, according to testing coordinator Mrs. LeeAnn McBryar.
The scores that have arrived are in U.S. History, Algebra II, and biology. Algebra I has not been tabulated yet because it is a full-year class for most ninth-graders. 
"Those results will not be available until close to the end of the year. Most of the scores seem to have improved," she said.
U.S. History was one course where scores have improved from last year.
"I had 21 students in my standard U.S History class and all but five scored advanced on it. The ones that didn't get advanced got proficient," said Mr. Shawn Seals. "When it came to preparing the students for the U.S History EOC's, I made sure I used a lot of practice tests so the students knew what they were like."
He also started working on teaching his students important vocabulary and also stressed the importance of the presidents early so that his students understood them.
"It seems that now students are actually liking history," Seals said.
Even though scores seemed about the same as last year, that does not mean that Central students are not showing improvement. The biology EOC scores have started to get higher.
"Even  though our scores didn't really go up, our students have kept up with new standards even though they didn't exceed them," explained Mr. Gary Fomby, biology teacher. "The tests are on an eleventh-grade level but we are giving it to tenth and ninth graders."
Last semester's Algebra II scores improved heavily from last year's, especially Mr. Craig Hawkins, a first-year teacher.
 "We prioritize our lessons so we don't have any wasted class time," Hawkins said. "One thing students need to do is ask questions since teachers don't always know what you don't know."
Other scores will be returned in May, such as English III TCAP writing and also Algebra I.
"We have a few classes of full-year Algebra I which means we have to wait to send in our tests for the classes that are only a semester so that they can all be scored an analyzed together," McBryar added.
About the Photographer
Andrew Odum, Staff Writer
My name is Andrew Charles Odums. I am a senior at Central, and I am a part of the MTS academy's enviromental pathway. I am studying for astronomy and chemical...