Fore Announced as Valedictorian, Whayeb Salutatorian of the Class of 2019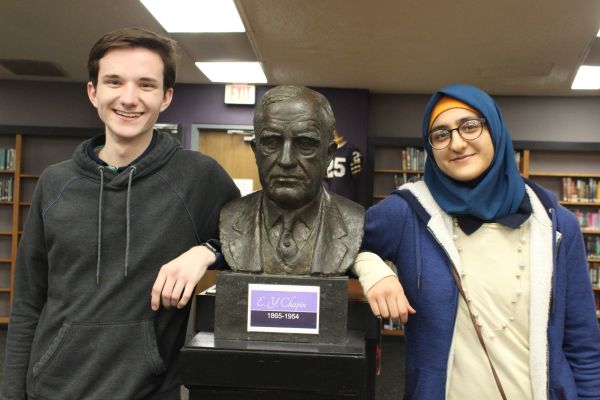 As the graduation countdown in the hallway approaches closer and closer to zero, the Class of 2019 continues to make arrangements for their future outside of high school, making the most out of their last few months at Central. Principal Finley King recently made his annual announcement of the top ranking students of the entire school. Preston Fore was named the valedictorian and Zeena Whayeb was named salutatorian of their graduating class.
"If you had asked me as a freshman, I would never have imagined becoming valedictorian," Fore admitted. "As the years progressed, I knew I was close to the top, but I was still very shocked and honored to receive the prestigious title."
While Fore has not planned on celebrating his achievement, Whayeb took the opportunity to commemorate the occasion with a pizza dinner.
The duo have been recognized countless times for their quality work and pleasant personalities by teachers and administration countless times. They both maintained 4.0 grade point averages throughout their high school career and scored exceptionally well on their ACT tests with Fore making a superscore of 34 and Whayeb making a score of 31.
Although these achievements may appear to be effortless, it takes a lot of perseverance, and sometimes multiple test retakes, to reach such a point. One of the most popular questions that the valedictorian and salutatorian receive from their peers is in regards of how they managed to stay on top of their homework with additional responsibilities like jobs and extracurricular activities.
"I never really thought about how much 'work,' or what the steps are to become a valedictorian. I just did my work the best I could because it brought satisfaction to me, and me alone," Whayeb divulged. "I maintained a 4.0 GPA and I tried to beat the ACT test, but I ended up stopping at a 31. I took it six times. For the salutatorian title, they take [into consideration] the highest grade average, not the grade point average or ACT score. So, they take your grades from freshman to senior year and average them out. The average isn't supposed to be above 100, but both Preston and I's were above 100."
"I definitely credit my three favorite high school teachers, Ms. White, Mrs. Hooper, and Mr. Cantrell with most of my success. They collectively have pushed me to where I am today and I definitely would not be myself without them," Fore revealed. "Additionally, I have benefitted from the amazing teaching of Mrs. Farrow, Ms. Cotreau, Mrs. Moyer, Mr. Potter and Mr. Seals. I love and appreciate them all."
For students still seeking motivation or advice on how they should approach their remaining classes, the salutatorian has a few helpful habits that may be of interest.
"First, get the word 'procrastination' out of your dictionary. Be able to not relate to those who say in an almost bragging tone, 'Yeah, man. I'm totally procrastinating on this project. I still haven't started.' Being able to relate is not a good thing sometimes. Second, do not work hard for a title. Do it for yourself, as the reward comes next," Whayeb advised.
Fore has not made a decision on what university he will enroll in, but he is sure that he will double major in two of the following, international studies, political science, or journalism. Whayeb has her sights set on the University of Michigan or East Tennessee State University with a major in physics. Although she was not required to take the class in high school, she is optimistic about the future outcome of her studies in the field. She will be pursuing a bachelor's degree in physics in order to earn a PhD and eventually teach others as a university professor.
While grades and tests are a significant aspect of students' lives, they are not the only deciding factors of a student's future success or acceptance into a prestigious university. Joining school clubs and events helps expose students to new people and experiences.
"I think every student should participate in as many extracurricular activities as possible. Not only will it benefit you greatly during the college application process, but they provide you with so many opportunities," Fore stated. "My time as the editor-in-Chief of the Central Digest and chair of the local Model United Nations conference have been among the most cherished parts of my high school life; they definitely have changed my life, so I am glad they are the things I will look back upon when I think about my time in high school."
"I enjoyed volunteering at the Hospice of Chattanooga, job shadowing at different places, and attending clubs and organizing projects. I'm the National Honor Society president, so the members and I organized projects inside and outside of school like the senior-freshman mentorship program and the Erlanger Oncology center book and hat drive," Whayeb added.
While they are looking forward to embracing their independence and embarking on their journey after high school, Whayeb and Fore cannot keep from remembering their best memories made at Central.
"Central High teachers are simply the best. I had to try to restrict myself from listing every teacher I've had because they all have contributed greatly to my academic success. Without them, I would definitely not have the same opportunities that I have now," Fore noted, "Plus, we have the best principal in the world. Mr. King is always the number one advocate for his students and Central High, and I don't believe we credit him enough for everything he does on a daily basis."
Many people would take up the offer to give their past selves some words of encouragement or advice. This is no different with our valedictorian and salutatorian.
"Dear younger self, keep doing what you're doing, but do stress less please. It'll work out, I promise," Whayeb affirmed. "In all honesty, your current self is still trying to work it out, so let's wait on another letter from our future self, but it will surely work out."
"Your actions today will either positively or negatively benefit your future. Make the right choices about how to use your time because it unfortunately will not last long," Fore vocalized. "Take every opportunity you get and run with it. Everything happens for a reason. Find a passion you enjoy and develop your own opportunities if they are not available. The sky is the limit! Lastly, enjoy your high school years while you can. While you may be eager to graduate, these years will be some of your greatest."
"After my class graduates, I hope Central receives what it deserves. It's a school that deserves a lot more than what it gets. It deserves to be prioritized, and its name deserves to be said a lot more under a good spotlight. Schools are always highlighted for their bad attributes or for the numbers they produce. Central has spirit, and it has the best intentions for its students. I hope that this shines through more in the future," Whayeb concluded.
About the Writer
DayOnna Carson, Editor-in-Chief
My name is DayOnna Carson, and this is my fourth year being on the Central Digest! I love reading and making stories of my own, so I am glad I got the...