After 12 Years as Principal, Finley King ('83) Takes Flight Into New Career at Delta Airlines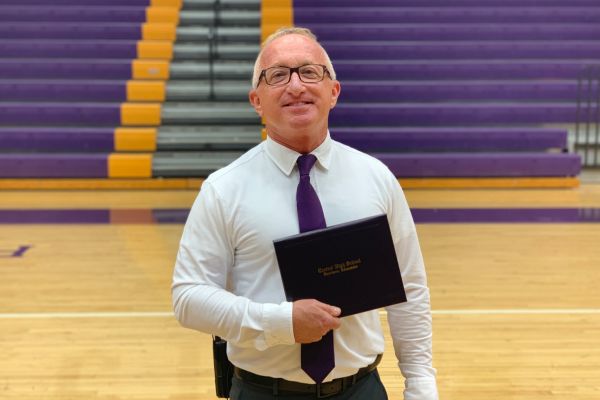 Schools are defined by their leadership. The responsibility comes down to the principal to make the tough decisions that can make or break a school. Thankfully, Central High School has been fortunate to have Mr. Finley King as principal for the past 12 years. King has embodied Central for most of his life, upon graduation in 1983, he went on to become a teacher, assistant principal, and principal of his own alma mater.
In fact, King started his life like most students growing up in Harrison, Tennessee, by attending Harrison Elementary, Brown Middle, and Central High.
"I did not particularly like going to Brown [Middle School]. I was not one of those outgoing people. School was not fun to me, but when I got to Central, I was inspired. [A teacher] asked me to run to be a class officer; they thought I had some leadership skills, and no one had ever told me that before," said King. "Central really gave me a voice that I did not have before."
King ran for vice president of his freshmen class and unfortunately was not elected into office. However, he ran again the next year and was vice president of his class for his sophomore, junior, and senior years.
Eventually, King attended the University of Tennessee, Knoxville, starting off as an accounting major. It was not until he realized his passion for working with young people that he knew he was destined to be an educator. King obtained a bachelor's degree in business education and a master's degree in educational administration and supervision.
Following college, King taught for two years at Jefferson Middle School in Oak Ridge, Tennessee, before moving back home to teach at Chattanooga Middle School for ten years.
"I taught computer literacy and eight grade math in addition to coaching track. I loved it. I never wanted to leave. Those kids really deserved good teachers who really cared about them," said King.
As a result, when King was encouraged to interview for an assistant principal position at Central, he was still hesitant on moving up to high school.
"After hearing the job was at Central, I knew I had to at least apply, but it's amazing how good your interview skills are when you do not want the job," said King.
King taught international business and personal finance for one year before becoming assistant principal, a position he filled for four years. Eventually, Principal Dr. Robert Shape took a job as an assistant superintendent, and encouraged King to apply for his open position. He has served as principal since.
"I'm kind of selfish; I want Central to get everything. I want Central to always win. I want Central to always be looked at in the best light. I got frustrated as a first year principal because I wanted Central to get all of this stuff, but I had to realize there was a process. Sometimes, just because I wanted it, [that] didn't mean they were going to give it to me," he said.
Instead, King began working to restart the alumni association to get things for Central. Since then, the association has successfully raised money through golf tournaments, inducted alumni and athletes into halls of fame, and funded dozens of scholarships for Central students. Additionally, under King's reign, Central's academics have soared, athletics have prospered at the district and state levels, and the school is finally receiving a new track. Most importantly, King has developed the Central community into one of love and dedication.
"Our school is definitely better now than it was 12 years ago. We have developed a heart for each other. Central has so many different kinds of people. I feel like that at the end of the day, people really care about each other," said King.
King has been getting close to retirement and knew he wanted his next adventure to be something completely different; he knew for a fact that he did not want to go be a principal at a different school or in a different state.
"I do not care about any other school except this one," he added.
King now plans on taking on the skies as a flight attendant for Delta Airlines. His new job training begins very soon, so, as a result, King's final day as principal was Friday, April 5. Veteran Hamilton County Administrator, Dr. Lee McDade, will continue out the school year as interim principal.
King noted that the areas at the top of his travel list include Ireland, Greece, Spain, and Africa.
Steve Lewis, one of Central's assistant principals, has worked with Mr. King for 14 years.
"He was with me the first day I started working at Central, and he's helped me through every stage of my career here. As an administrator, he's done so much to get me ready to become a principal one day. We have worked together for so long that he is more than a friend to me at work; he's closer to me than my brothers are. I don't know if Mr. King will ever know how much he means to me and what he's done for me personally and professionally," said Lewis.
Nevertheless, King's legacy will live on forever at Central High as the school begins to close a chapter in its history and begin a new one.
"I get to see kids come in as little, scared, ninth-grade grapes and grow up to be confident, well-spoken seniors, who are ready to go out into the real world and do great things," concluded King. "I truly do like the kids, and they are who I am going to miss the most."
View Comments (2)