$1,000 Grant for the Ruriteen Club Assists with the Cost of School Lunch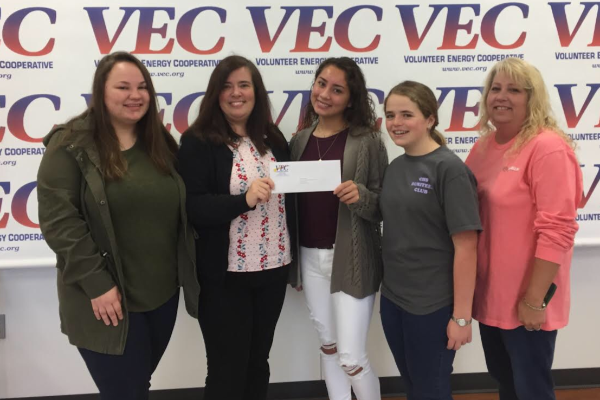 Central High School's Ruriteen Club recently received a grant for $1,000. This money will be going towards helping students at Central who may not be able to afford to buy their lunch food. Currently, students at Central who do not have money in their account, and do not qualify for free lunch, cannot purchase food. The grant money will go directly towards lunch food for those students who need it.
"The grant that we got was for $1,000, and the reason we wanted it was to help cover lunch expenses for people that cannot afford to buy lunch," stated Donna Rast, sponsor of the Ruriteen Club.
The Ruriteen Club is a smaller, more local division of the Ruritan Club, a nationwide community service organization. Members regularly participate in volunteer work and raise money for good causes.
President of the Ruriteen Club, Senior Cassandra Castillo, mentioned some of the projects that the Club has done in the past.
"Last year, we were able to go to Harrison Elementary to teach the kids about Black History Month. We also always host the CDC Prom for our students," said Castillo.
Senior Abby Young, who is the Vice President of the Ruriteen Club, said that the members are excited about the grant and the opportunities that will come with it.
"The grant is very exciting because it will help kids who cannot afford lunch and will help them not go hungry. No one deserves to feel that way, and I am so glad we have this chance to help kids feel better," shared Young.
The Ruriteen Club has not only impacted the lives of the people they help, but the Club also impacts the people who serve in it. Community service can prove to be an amazing way to connect with and serve other citizens in the area. The Club continues to show how residents can make their own impact on their city.
"The Ruriteen Club has affected me by showing me how much community service means to me. Helping people has opened my eyes to others' struggles and made me appreciate people even more," noted Young.
Central students still have time to join the Ruriteen Club. Students interested in joining need to get an application from Donna Rast in the front office. Meetings are held on the second Tuesday of every month directly after school.
About the Contributor
Baylee Ellis, Staff Writer
Hi, my name is Baylee and I am a junior at Central this year! This is my second year on the Digest, and I am excited to continue my journey as a Staff...