Art Students Paint Basketball Mural In Boys' Locker Room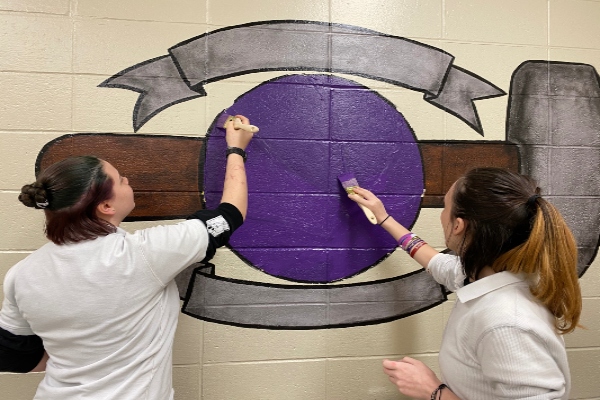 Many students believe that creativity and art are driving factors of school spirit and learning as a whole. Due to this, many argue that Central High School lacks in the area of imagination and ingenuity, therefore, affecting the spirit and mood of Central overall for the school day.
To counter this dismal spirit and add a little color to the school, a few enthusiastic art students are painting a mural in the boys' locker room to commemorate Central's basketball teams.
The idea for the mural was devised after Coach Kantonio Davis, the dean of students and boys' basketball coach, asked Central's art teacher, Melissa Hoesman, if any of her students would be interested in painting a mural. Two students, Sophomore Zaida Aucoin and Junior Vivian Lakey, took interest and volunteered to paint the mural.
"The mural is an image that we traced of a basketball with the Central Pounder mascot mallet going through it. We wanted to incorporate the basketball to represent the spirit of the basketball teams, as well as the mallet to represent the spirit of Central as a whole," shared Lakey.
The students have been working on the mural ideas since November. They brainstormed during lunch and continued to build on what they believed was a good representation of Central basketball. They started out by searching images until they found some to include in their design. They had the design approved by Coach Davis and began working on it by projecting the image onto the wall and tracing it.
"It's a really cool design. The colors are vibrant and the yellow really pops. The inclusion of the hammer ties our school's history into the logo, which is important. No one knows what a "Pounder" is; The hammer is a way to explain that our moniker is a nod to the old steel industry in Chattanooga," stated Central's English 11 and English 10 support teacher, Ryan Mallory.
This new mural shows the determination and enthusiasm embedded deep in Central's student body. The staff and students strive to make Central a better place every day by showing off their Purple Pounder school spirit and will continue to do so until the spirit is spread school-wide.