Officer Paul Soyster Returns to Central After Recovering from Injury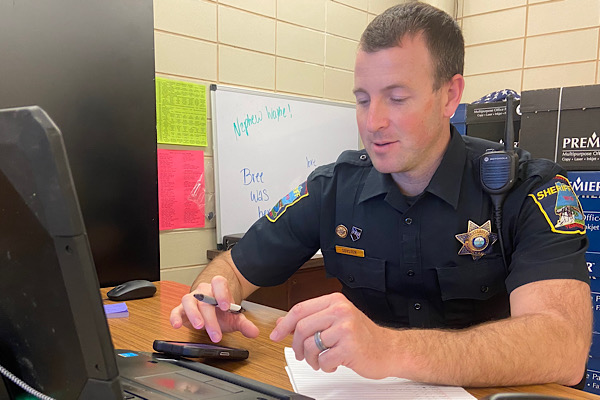 While students are traveling throughout the school campus each day, it is the Hamilton County Department of Education's main goal to ensure one thing as they obtain an education: student safety. While safety is one of the county's top priorities, unprecedented conditions led to both Central High School and neighboring Brown Middle School without a full time student resource officer (SRO) for essentially the majority of the 2019-2020 school year. However, on February 24, Officer Paul Soyster returned to Central as its full time SRO.
Officer Soyster was unable to be on campus for most of this school year due to a severe knee injury. Now, however, he has fully healed, so he is able to return to his duties as Central's SRO.
Next door, privatized security was put in place at Brown Middle School after their former officer retired. Just last week, Brown Middle was appointed a school security officer (SSO), employed by Hamilton County, named Jim Tizzio. 
"We are very excited about [SSO Jim Tizzio] being at our school," revealed Brown Middle Principal David Carpenter in an e-mail.
Officer Soyster's official first day back as the SRO was on February 21, which turned out to be a snow day where students were not present.
Last year, when Officer Soyster had last been working at Central, Finley King was still principal, however the school welcomed Principal Phil Iannarone this August.
"[The adjustment is going] good. I mean, there's a new principal. I am trying to get to know him and all the freshmen before we get new [students next year]. Overall, most of them are receptive," Soyster revealed.
While Officer Soyster was unable to work for some time, he made an effort to visit Central weekly to check in with students and staff. In his absence, all of the incidents that he would have usually handled himself were under the discretion of the city of Chattanooga because the school is within city jurisdiction.
Many students have claimed that there have been significantly fewer incidents this 2019-2020 school year, which is surprising considering the fact that there was no SRO on campus. Soyster said that he cannot attest how smoothly things went in his absence, but pointed out that near the end of the school year, school activity tends to wind down.
"The end of the school year is already different anyways, as it tends to slow down. The beginning [of the school yea] is more busy, as new kids come in and go out, and we don't have the same problems," Soyster stated.
Students from other schools, as well as students returning from break, may need to be refreshed about Central's expectations near the beginning of the school year.
"A lot of times, teachers help [mitigate the amount incidents that occur]. When teachers communicate [the rules to students] better, there will be less disruptions in the classroom and the hallways," Soyster said.
Some students initially believed that Officer Soyster left Central to work elsewhere, but he put all the rumors to rest by stating that he intended to fulfill his three to five year goal of being an SRO unless the Hamilton County Sheriff's Department directs him otherwise.
To stay up to date on all of Central's news, be sure to view the news page.
About the Writer
DayOnna Carson, Editor-in-Chief
My name is DayOnna Carson, and this is my fourth year being on the Central Digest! I love reading and making stories of my own, so I am glad I got the...