Editorial: How Fast Will Senior Year 'Fly' By?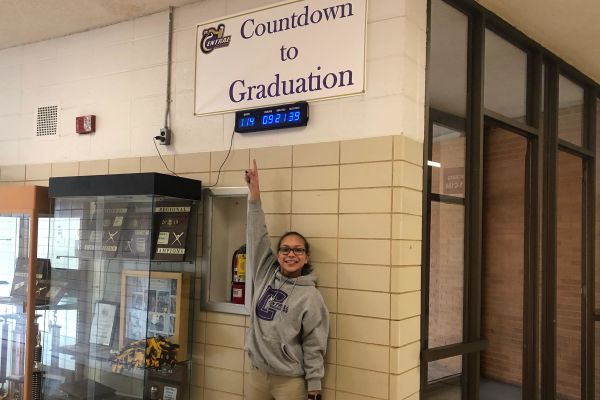 As the rest of the 2018/19 school speeds along, the class of 2019 shares a collective of mixed feelings regarding their final year of high school coming to bittersweet end. Some are excited to see it end, however, others are deeply saddened to see it go.
"I am both excited and scared that there are only four months left of my high school career, " vocalized Senior Lacy McKinney.
While McKinney has mixed feelings, other seniors do not feel the same way.
"I feel accomplished and ready," voiced Alexis Massengale.
Mr. Finley King, Central High School's principal, had some things to say about the short time we have left for the 2018/19 school year.
"The rest of the year is going to fly by. It is like a really fast roller-coaster ride that is slowly speeding to the end. And I'm worried that some seniors will not make it to the end with their classmates," interjected King.
"So far this year has flown by, and it terrifies me that I am going to college in just a few months after I graduate. I hope it slows down so I can enjoy this monumental moment," voiced Lacy McKinney, a senior.
"The time is flying by so fast that it is hard to believe I am almost done with high school," expressed Massengale.
The biggest issue with seniors, is the infamous Senioritis, which is "a supposed affliction of students in their final year of high school or college, characterized by a decline in motivation or performance," and a lot of seniors here at Central have caught it.
"I know students work, but a job is not as important as that diploma. Some students want to put in extra hours into their job to pay for things like Prom or a new phone, but when they work more, grades start to slip," explained King.
While many have caught Senioritis, others have not fallen of the path to graduate.
"I have not really experienced Senioritis yet. Probably because I am so busy with band events that I get enough time off from school, and am ready to return to my studies," accounted McKinney.
"You will not get behind if you are determined to graduate and ask for help when needed," noted Massengale.
As the year comes to a close, and our journey in college begins, Mr. King would like to leave the seniors with some advice.
"Work hard, study hard, and college is not as forgiving as high school. A deadline is a deadline," concluded King.