Mrs. White: Teacher by Week, Runner by Weekend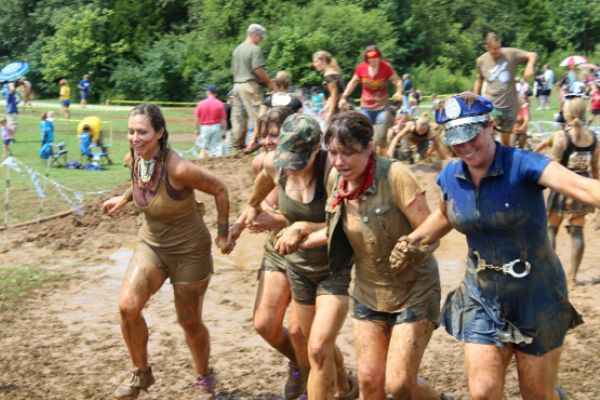 Most students aren't aware of the hobbies and activities their teachers participate in outside of school. They may like knitting, collecting coins, being an activist for a group, or even dressing up in superhero costumes and running 5K obstacle courses through the mud with their friends.
Mrs. Sally White, the sophomore English and creative writing teacher, has participated in several 5K races and one 10K race in the last year. These races have been for personal satisfaction, charity, and awareness for certain issues.
"I recently completed my first 10K race in Maryland, which was a really great achievement for me," stated White."Before, I was doing only 5K races, so I've come a long way. The first race I did was the Mud Run. It's a series of obstacle courses that you have to run though in the mud, and that was really fun. I went through it with a group of my friends, and we all dressed up in costumes. The race was a charity for Habitat for Humanity."
A great deal of the races White has done have been for charity. Earlier this year, she participated in the Glow Run, which was to raise awareness for the acceptance of diversity, specifically for people of different sexual orientations.
"For the Glow Run, I dressed up as a 'Tron Legacy' character with my husband. The whole point is to glow, so that seemed like the perfect choice," expressed White.
White has a love for costume and theater, so being able to wear costumes to many of these races is a plus for her. Most of the charity runs are costume races.
"My favorite costume I wore was probably my interpretation of an Andy Warhol painting. My three friends and I took the famous Marilyn Monroe pop art painting and painted our faces to represent each segment of the painting," stated White.
Not all of the races White takes part in are sludge-filled obstacle courses or filled with people in funny costumes. She also runs more serious races, sometimes with her husband, and casually around her neighborhood, often joined by her son, Trey.
"I didn't really mean to start running. The way it happened is kind of odd. I remember one day I had to jog across the street to avoid oncoming traffic, and once I was across the street, I thought about people who exercise by running. It seemed pretty easy, and I figured it was something I could do. It was a slow process. I would set goals for myself each time I ran, and I was able to run longer and longer distances," explained White.
The races White takes part in can be as small as a couple dozen people or as large as several hundreds of people.
"Winning isn't a very important factor to me. My husband usually takes off at the beginning of a race, but I like to take it slow and steady and do my personal best. This sounds really cheesy to say, but if I can do it, anyone can," White concluded.