Pounders Earn Another Double Victory Over Wildcats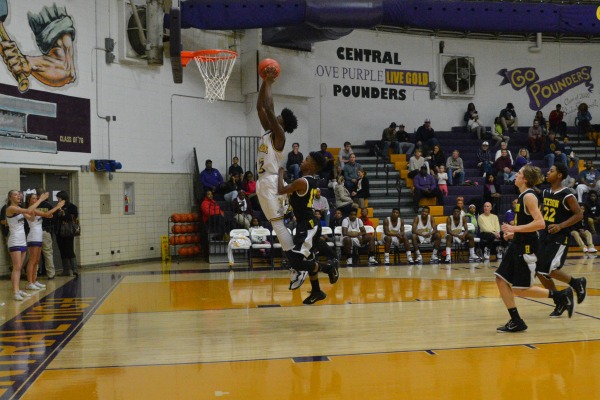 The Central Pounders had another great night of basketball on Tuesday, January 27. The Lady Pounders had a lot on the line – if they lost,  Hixson would take first in the district. This fear ended in the third quarter when the Pounders outscored the Wildcats 17-4 . Senior guard Sandrea Sylman had another terrific night, scoring 14 points and 8 rebounds. Junior guard Rebekah Hill was another stand-out, earning ten points, six rebounds, six steals, and Central's only three-pointer of the night.
"We just made sure someone was always on No. 10 (from Hixson) so she couldn't score points," said sophomore Emily Feist.
There are only three games left on the Lady Pounders' schedule this year. If Central wins against Red Bank and Tyner, the girls will be crowned district champions.
The boys also had an amazing night, winning 94-64. This is the first time this season that the Pounders have broken 90 points.
"The plan was to shut down No. 24,  Chandler Abbot. He is their best player. We even changed our defense so he wouldn't be able to take the shots he wanted," shared senior Robert Hudgins, who also scored four points.
Junior point guard Terron Hayes led the team with 20 points and freshman shooting guard Brett Shropshire earned 14 points. Brett also had four three-pointers and was 2-2 on free throws.
"The key to success on offense was just a lot of ball movement. I just stood deep in the corner and they were able to get the ball to me," noted freshman Brett Abshire.
The Pounders host the Red Bank Lions on Tuesday, February 3, at 7:30. If Central wins then wins again at Tyner, they will earn second in the district.
Leave a Comment