Lady Pounders Are Lacing Up For Their Grand Slam Season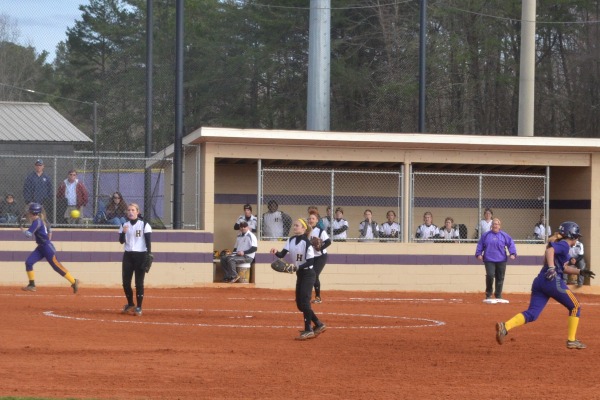 With the softball season starting up, the Lady Pounders are looking to make a long run in the state tournament this year.
"Our goal is to win our last game," Coach LeeAnne Shurette emphasized.
The Lady Pounders are looking stronger than ever this year and they know it. Senior Ally Welch and junior Sam Scott are extremely confident in their team this year and are more than ready to make a deep run in the state tournament.
"Our ultimate goal is to win a ring," Welch expressed with extreme confidence.
Not only do the girls want to win a title this season but to do so convincingly by beating every team they play in every aspect of the game.
"You go out on the field and look at the person playing your position and know you're better than them," Welch stated.
"We want to be an intimidation factor. When they (the opponents) hear they've got to play us, they get scared," Scott added.
Coach Shurette praised how great this 2015 team is both in the classroom and on the field.
"We have 15 girls, and 14 of them are getting an academic award. They do what they're supposed to do in school and work hard on the field," Shurette shared.
At this point, the girls have the entire school believing that they are destined for a ring this year. They are receiving loads of support from students and faculty members day-in-and-day-out. The Lady Pounders' next game is a pink-out on Monday, March 16, against Baylor High.
"We have a saying – 'No excuses; no explanations; do what we do'," Shurette passionately stated.
The Central Digest wishes the Lady Pounder softball team the best of luck this 2014-2015 season.
Leave a Comment