Central Boys' Soccer Team Suffers Loss Against East Ridge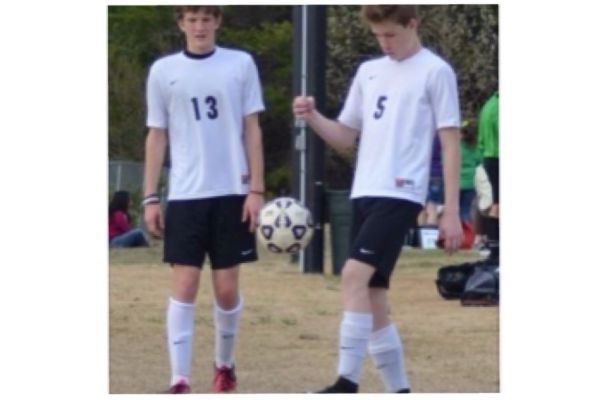 At 5:30 on Tuesday, April 15, Central's boys' soccer team ran out onto the field filled with ambition and excitement. East Ridge has been a rough team to compete against for Central's soccer for many years.
Although in past seasons Central has suffered dreadful defeats to East Ridge, this year they pressed harder than ever before.
East Ridge jumped forward from the moment the whistle was blown, and with that drive sunk in three goals in the first half.
The first goal came from a center midfielder, who then crossed the ball to the right corner of the field. East Ridge's forward then fired the ball into the top corner of the goal. Running the exact same play, East Ridge shot another ball past Thomas Crownover, the Pounder's keeper. To follow that up, setting the score at 3-0, East Ridge, the Pioneers dribbled the ball up field through Central's midfield and defense. Then, the ball was passed to another forward about four feet away inside the 18 (goalie/keeper box) and tapped into the lower left-hand corner of the net.
"I was just waiting for a comeback from us; I knew we had one in us," Julie Woloszyn, a Central mom, stated.
Tyler Kuhn, one of Central's forwards, rushed up the side to receive the ball. He crossed it through the middle, and it ricocheted off the goalie and into the goal. After a small celebration, the game intensified and Central was hungry for another.
Central's opponent raised the stakes even higher and chipped the ball in past Central.
"Our boys played really well," an East Ridge parent commented, "but we got really tired [in the] second half."
Halftime ended with a score of 4-1.
"I'm not sure what Coach [Jim] Stone said to them during halftime, but they are fired up!" Central parent Brad Wagner stated.
Bryson Lemons, a senior on the team, dribbled the ball and passed to Jacob Wilson. He gave the ball back to Lemons, and after the goalie stumbled and dropped the ball, Bryson stole it. He shot but barely missed.
East Ridge charged up the middle and slid the ball into the bottom corner. The score was 5-1, East Ridge.
"It was really upsetting because we had six or seven shots [in the] second half, and they just weren't going in or they were going straight to the keeper's arms," Wagner said. "But we played so much better than we did [in the] first half."
Corey Quinn ran the ball up the right side of the field after receiving it from Tareq Faleh at defense. Quinn shot, and as the goalie dove for the ball, it slid right beneath him.
The game ended with a saddening score of 5-2, but Central's boys played an incredible game.
Leave a Comment