Athletes Continue to Practice at Home Despite Spring Sports' Indefinite Cancellation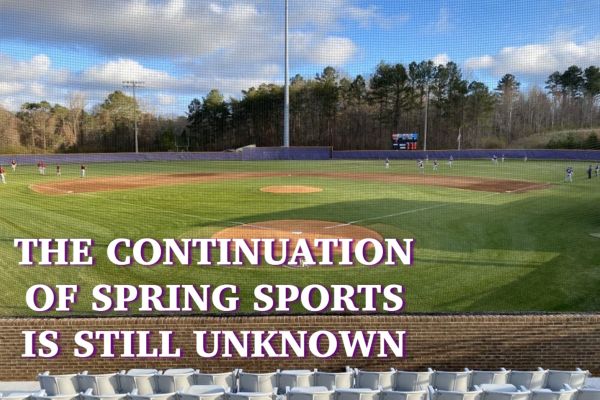 Tennessee Governor Bill Lee recently announced that schools will remain closed until April 24, which is an extension to Hamilton County's March 27 return date, leaving no exception for sports games and practices. Since students are out of school for nearly a month, spring sports' seasons are left with no real continuation. The season normally begins in February and continues through the beginning of May. Spring sports include track, boys soccer, tennis, softball, and baseball, making it the busiest season of the school year. 
Students hoped to be back in school sooner to continue their sport, but seeing that the coronavirus outbreaks have only increased leaves them with no hope to be back in season anytime soon. To cope with being out of school, players have resorted to practicing at home to better themselves if the season continues. Seeing that this would have been the first season that the new track would have been used, students continue to practice at school as well. 
"I'm not happy at all with the coronavirus ruining the sport I love; I've been doing track since I was in the 3rd grade, and this senior season, I was trying to go all out, with this being my last year, and for the coronavirus to ruin track just makes it tough," stated Senior Orlando Gearing."The season hasn't been fully cancelled, so after I finish my work online, and on days I don't have to work, I go to the track and workout to make sure I'm still ready for the little meets we might still have on the schedule."
These student-athletes have been conditioning long before February. Many of the baseball players were out practicing in the fall, mainly because they genuinely enjoyed the sport. Juniors Jailon Jackson and Jacob Nation had been practicing in Central's baseball field for months now, looking forward to a successful season and a good tournament outcome.
"This baseball season has not been fun due to the coronavirus taking it away. I am very upset that we cannot practice or do anything with the team to stay in good condition. I hate that the season is getting taken away, because I really felt like this year was a big year for us to make it far in the tournament," stated Jackson.
"Baseball is a passion we love so much, and now it's gone. We had the team practice long and hard, and we are looking so good," added Nation. "Our hard work was paying off, and, now, I'm very upset some stupid virus took it away from us– something we love so much just gone."
Athletes always look forward to their season in hopes of becoming better players each year; however, this was taken from them, seeing that school will not be back in session soon. Senior athletes are most affected by this outcome. They have longed for their senior season and getting to be a part of senior night— which is a night dedicated to them as long time players– since they began playing at a very young age. 
"It's been hard not having a season this year since softball is something that takes up, not only a huge part in my life, but also a big part of my heart. I've been playing for almost 10 years, and this is season has always been something that I have looked forward to. This is my senior season, and I want to be on the field extremely bad. Every high school athlete looks forward to their senior season, and to not have the opportunity to have one is sad," said Senior Softball Captain Jaleesa Smith. "I still practice at home because it is something I genuinely love to do, but nothing compares to actually being on the field, being with your team, and playing in an actual game. That adrenaline to me, is one of the best feelings in the world and it hurts that I, and other athletes who are going through the same thing, might not be able to experience that again."
"I'm coping with no soccer season by occasionally playing soccer with friends at Central on the down-low. I sometimes practice in my driveway by trying to kick the ball against a wall without letting it touch the ground. I'm pretty annoyed that this happened my senior year. I would have been more okay with it happening any of the previous years, to be honest," stated Senior Soccer Captain Alejandro Salazar.
The TSSAA is exploring options as to what will occur in the future and will provide updates in regards to Governor Lee's decision. Several games were played in the beginning of the season, but have come to a complete stop after school was cancelled. Parents and students are still hoping for sports to continue, so updates from TSSAA are highly anticipated.
Readers can view the latest sports updates on the sports center page. This is where schedules, scores, and rosters will be posted.