Girls' Soccer Plays Home Games For a Win and a Loss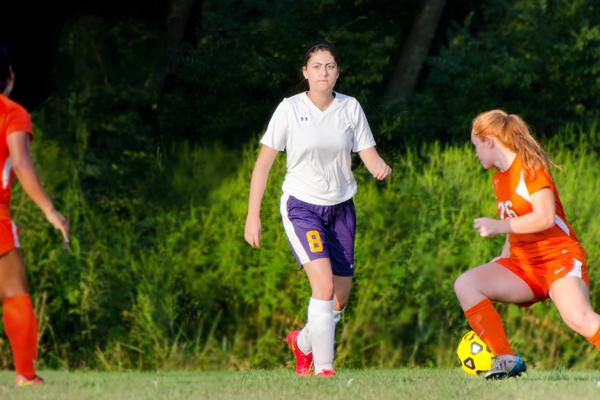 While soccer players are passionate about their sport and team, a supporting crowd is not often a component of high school games. This norm was discounted at Central's home games on Tuesday, September 2 and Thursday, September 4, which both drew above average crowds.
"It is definitely helpful to be in the comfort of your home field and also to have your home crowd to cheer you on," noted Coach Scott Phillips.
The first game of the week against Marion County was a reassuring win with a final score of 5-1.
"It was a great game! Everyone had great sportsmanship all around," exclaimed freshman player Haylee Smith.
The Marion County Warriors were no match for the Lady Pounders, who were hungry for a victory after a devastating loss to Polk County the week before. The girls played a hard game and remained focused, which gave them outcome they wanted.
"I was most happy to see everyone working together and enjoying their time," said Coach Phillips.
The next game on Thursday against East Ridge did not have quite the same results; by halftime, the score was 6-1 with the Lady Pioneers leading.
"We made a lot of mistakes that you just cannot make when playing a quality opponent like East Ridge," Phillips commented.
The opposing team was relentless against Central's defense and keeper Rebecca Allen, scoring several goals while she was down. But something changed during the second half.
"We had a good talk during halftime, and we had a moment of realization that we needed a better attitude," Haylee explained.
"The players just decided they wanted to play harder and with a focus on eliminating the mistakes they made in the first half," Coach further shared.
Also different in the second half was a new player – Nina Rodrigues, an exchange student from Brazil, played for the first time that night.
"It was so much fun, and everyone is so nice," Nina said with a smile. "The girls work so hard for the team, and I appreciate it."
Neither side scored in the second half (which is a good and bad thing), leaving a final score of 6-1 with a win for East Ridge.
"This is normal – everyone wins and loses," Nina noted optimistically.
Central plans on improving different skills and characteristics in practice for their upcoming games.
"Defense and overall sportsmanship and patience," listed Haylee.
"We really want to keep working on our team passing skills and our team defense," agreed Coach Phillips.
With that in mind, Central is certainly hoping that the Lady Pounders will keep improving and have more wins, at home and away. They plan on accomplishing this goal at their next game against Red Bank on Tuesday, September 9.