Student Section Erupts at Central High School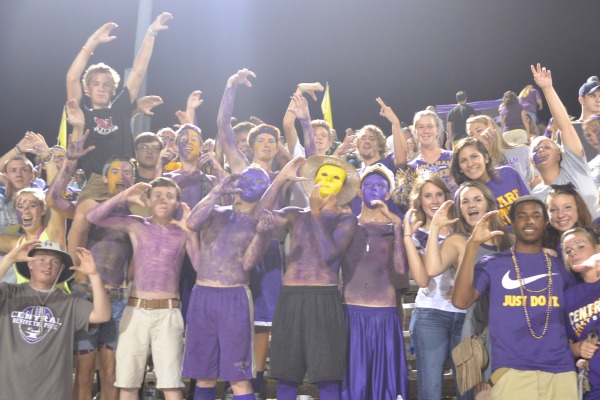 On Friday night at Central Memorial Stadium, the Central Purple Pounders dominated Marion County 7-0. The crowd was absolutely huge, and Central's student section was in full force supporting the football team. Every good sports team has a good student section. In Central's past, there have been small student sections, including the barrel boys, which only consisted of around ten people. Central has never really been known for its student section, but at this game, it was a whole different atmosphere. There was a solid 30+ students cheering on their football team. The student section this week looks to distract Red Bank and enlarge the section with a "Purple Out".
Kayla Brown, a senior here at Central, was the one to go purchase paint, spray paint, and air horns for the football game.
"Everyone was hype and so full of energy. It was awesome as we cheered on the football team. I actually had a few players tell me that our screaming and hollering pumped them up while they were playing, and it fueled their energy and motivated them to keep playing their hardest," she said.
One could see how it affected the football players. Some of the athletes would raise their arms up and down, motivating the student section to be louder.
"The team was full of energy. I was so glad to see people with pride and there to support us," shared tight end Brandon Lewis.
The crowd was really into the game and is very excited to see how the student section will react to the game against Red Bank this week. With all the fire and pride these students have, they can really accomplish something this year supporting their team. Senior and student athlete Madison Rogers was even interviewed about the student section on TV. This goes to show Central is taking pride in the school and sports teams that they are. The sayings "Love Purple, Live Gold" and "Revive the Pride" are really being displayed in Central's new student section this year.
Leave a Comment