Girls' Soccer Team Redeems Themselves In a Win After Multiple Losses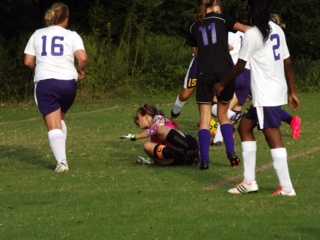 On Tuesday, September 23, the girls' soccer team played a rough game against Rhea County. The girls battled for the whole 90-minute game.
Chloe Nabors, Madison Pitts, Madison Rogers, and Hannah Holmberg played defense for the first half of the Rhea County game. They held the 18 and kept the ball out multiple times, taking the breath out of Rhea's forwards. Unfortunately, it was not enough and about fifteen minutes in, Rhea County set up a cross and fired the ball into the goal.
Hungry for more, Rhea demonstrated the same play and the ball flew past the goal line and sunk into the back of the net, setting the score at 2-0, Rhea.
"We have to play as a team. We are good as individuals, but as a team, we can win," instructed Coach Scott Phillips at half time.
"We're so much more when we play together. These girls are fast and aggressive. We need to spread out and play the ball around them," reminded Rebecca Allen, Central's goalie. "I see everything from back there; we really have to stay in position."
At the referee's whistle, Central ran onto the field ready to play, and so did their opponents. Central carried the ball forward, but Alyssa Rosenzweig only made it around three players before Rhea's defender cleared it up field. However, Edith Espinoza won the ball back and then dribbled it up.
Rebecca Allen stopped over 25 shots on goal and had great punts throughout the game.
After numerous shots on goal by Central, there was no luck and the game ended with a down-trotting score of 5-0, Rhea County.
"I'm proud of my team. We played hard the second half, and I'm not even too upset that we lost," Allen said as captain of the team.
Bouncing back from Tuesday's game, Central battled Howard at home on Thursday, September 25, which was also Senior Night.
After many shots on goal and a rough beginning of the game, Alyssa Rosenzweig scored the first goal, nailing the ball in the goal from outside the 18, about twenty yards out.
At half time, the seniors received their flowers and shared their heart-warming memories with the team.
Shorty after, Coach Philips and Assistant Coach James Stone used the last few minutes to talk to the team.
"Yes, you're winning, but it doesn't matter if you don't play your best," Stone exclaimed.
"Come on, we're only up 1-0; we could easily lose. Let's get out there and keep it up. Let's get some more goals," Kerrington Severson expressed to her teammates.
At the start of the second half, the Lady Pounders came out fierce and Edith Espinoza sprinted up into position. Tori Bruno-Arimura switched the ball for Edith, who then kicked it past the goalie.
Next, Ursula Santos joined in, scoring on a beautiful pass by Yanett Torres, who recieved the ball from Tori.
Howard stepped up their game and fought back even harder, but Severson and Santos shut it down by both adding to the score. Severs0n dribbled up field and ripped a magnificent shot from right outside the eighteen.
Santos wasn't done with her moment of glory and she dribbled past Howard's last defender and fired a shot.
The game ended with a score of 5-0, Central, putting the Lady Pounders back up and restarting their streak.
Leave a Comment