The CHS ROTC Announces 2014-2015 Air Rifle Team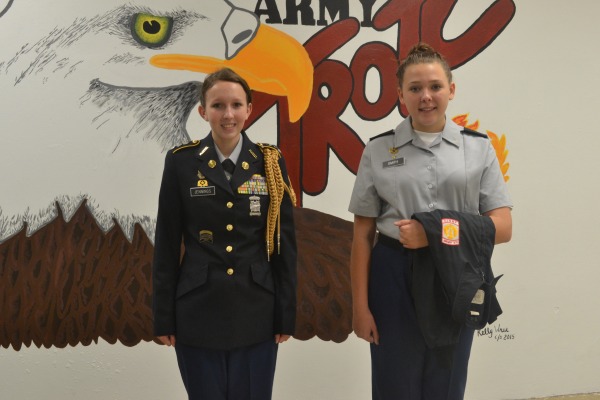 It's here again! Central High School's ROTC has selected the CO2 Air Rifle Team for 2014-2015 school year. After long, strenuous tryouts, the team was chosen.
"There's so much that goes into it that I don't think people see. It means a lot to ROTC," explained Kelly Long, a standby for the team. She also described how tryouts are just as nerve-racking and worrisome as any other tryout.
Sargent Major David Lewis in the ROTC department used a very different and unorthodox way of selecting the team. Rather than him selecting the kids right away, he handed the task over to last year's team, who looked at the targets without knowing who shot them. They simply turned them over and looked at how each person shot, then put them in one of three categories: Yes, Maybe, and No.
"That way, it's based strictly on how your performance was, rather than if you were in a cliché or something along those lines," stated Sgt. Major Lewis.
All members are also expected to have good grades, be well-behaved, and have self-dicipline.
"I looked also for A's and B's because academics are very important; they come first," Lewis commented. "Along with that, they need to behave well throughout the whole school, not just in ROTC, but that generally comes with having good grades."
"I'm very proud with the girls I have on the team this year. I actually have five girls for competitions, and although people look at me and ask me, 'What are you doing with five girls?!', these girls do great and usually beat the boys," Lewis expressed as he discussed what a great opportunity Air Force Rifle Team is.
It is an equalizer, holding males and females to the same standard.
"We beat the boys and then laugh about it later," he shared.
Lewis mentioned Cassie Hope and Casey Jennings, who have been on the team since their freshman year and have been an incredible addition to the group. Sgt. Major Lewis is thrilled to see how they do this year and is expecting them to go out strong.
The team is already preparing for the first competition by shooting targets and practicing regularly.
"The girls on this year's team are going to do great. They're going to blow away the other schools," commented CharNeice Clark, a former member of the Air Rifle Team and a current member of the Drill Team.
Overall, the assembled team has high expectations, and Central is positive that they will pull through.
This year's team consists of C. Jennings, D. Villanueva, K. Hope, B. Mogren, M. Blanton, and D. Kramlich.
Students who made the cut for  the Air Force Rifle team are K. Sweeten, A. Miller, L. Tarukwasha, J. Jennings, I. Wolfum, M. Presley, A. Heyward, and R. Forgey.
Standby students are T. Hutto, C. Greogry, A. Smith, K. Long, and R. Hicks.
Central High School wishes its rifle team the best of luck.
Leave a Comment