Former Basketball Player & Current Assistant Principal Frank Jones Will Retire This School Year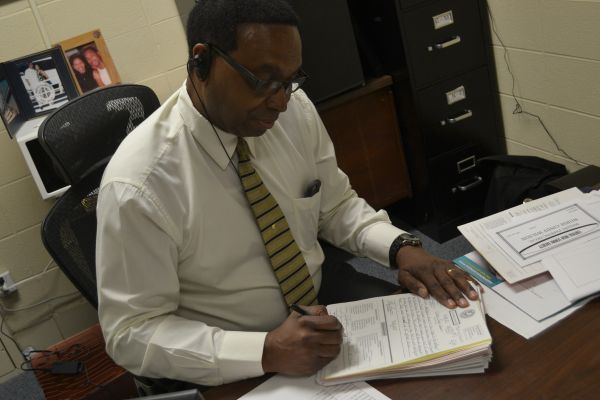 Mr. Frank Jones will be retiring at the end of this 2016-17 school year after 23 years of teaching and five years of being Central's assistant principal. Mr. Jones retired after five years of being Brainerd High School's principal in the 2008-09 school year. He was needed again, however, by Mr. King and came back as an assistant principal. Therefore, this will be Mr. Jones' second retirement.
During his high school years at Chattanooga Riverside High School, Mr. Jones played all kinds of sports, especially basketball. He even played in the Tennessee high school East vs. West All-Star basketball game. A graduate of the class of 1972, Jones received a basketball sports scholarship and headed to Tennessee Technological University
"In my childhood, I spent a lot of time in the recreation center and the adults there helped guide me and worked with me. I was involved in many different activities, playing basketball and baseball and it all became a part of me. I was influenced by them and saw myself doing the same things they did," shared Mr. Jones.
Jones discovered what he wanted to do early on and headed in that direction. During his time at Tennessee Tech, he had to work with students from elementary, middle and high schools. He enjoyed working with kids and picked the education profession. In addition, he was drafted into the NBA with the Buffalo Braves in 1976.
"I wanted to be the best teacher and the best coach I could be. I wanted to help students be the best they could be. I didn't want for a student to go and do something stupid which I could have prevented. I wanted to keep them focused in the right direction and guide them back if they weren't," stated Jones.  "I think I gave my best effort towards that. I learned from life that all I can do is plant the seed and the child has to nurture it."
After joking that he was tired of all the students, Mr. Jones shared the actual cause of his retirement.
"Everybody needs to retire while they're happy. I felt it was time for me to go and focus on other things."
Mr. Jones' five years here at Central consist of treasured memories that not he nor the staff will ever forget and even though he is looking forward to his retirement, he will miss the many things he will leave behind.
"The CDC prom and the Teacher vs. Student Olympics are some of my favorite memories," reminisced Jones.  "I will definitely miss working with the students. A lot of my time and my summers were spent working with the youth."
Mr. Jones does plan to come visit Central and keep supporting the school, declaring that he will never forget where he came from.
"Out of all the schools I worked in, the staff here are the most meshed and connected," commented Jones.
After he retires, Mr. Jones has planned a complete list of things to do.
"I am going to focus more on Frank, me. I always have been a person who focuses on others and I now want to spend more time working on me. I want to get to a point where I can run for a few hours a day too," shared Jones, laughing.
Many students will miss Mr. Jones and his bright personality.
"Mr. Jones' unique personality has a kind of spunk to it. I think he did a great job in his five years and definitely made the right calls when it came to discipline," commented Senior Class President, D'Andre Anderson.
Although Jones will be found sitting at home, playing chess, cards and sports, painting and doing some yard work after his retirement, all of Central High School here will miss Mr. Frank Jones.