Central Mechanical, Electrical, and Plumbing Systems Classes Win $50,000 Prize
Jerry Webb and his students were presented the check from Harbor Freight Tools for Schools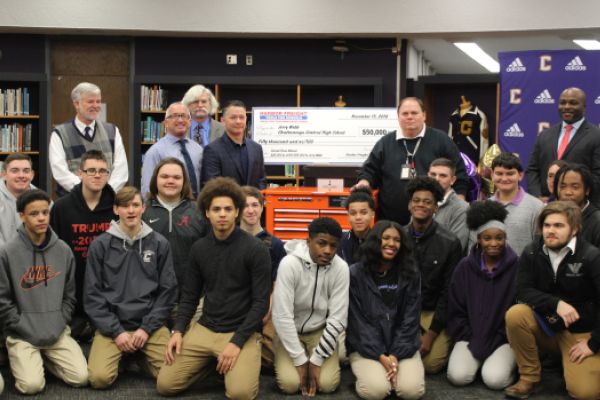 After being among 557 other participating teachers, Central High's Mr. Jerry Webb received $50,000 for his mechanical, electrical, and plumbing systems classes. The check was honorably presented by Scott Brown, senior manager of Harbor Freight after Webb placed second in the Harbor Freight Tools for Schools program. This prize recognizes outstanding teachers and teacher trade skills in United States public high schools with high standards and expectations. The class received the check along with a Harbor Freight tool box, which will be a useful resource for storing tools needed for class projects.
Recognition for this prize was held in the Central High library on November 15, where administrators, teachers, company representatives, and even TV news channel journalists were in attendance. They gathered around to view the excitement of the students' faces when they saw their hard earned prize.
"Real World Scholars is what generally funds our class, but Mr.Webb entered us into a contest where we got second place. He's honestly a great teacher because he's laid-back and makes us get things done, making our class flow," explained Junior Seaver McCall.
Webb's students were very proud of their accomplishments and hope to continue to work hard to strive for more with the help from the prize money.
"It's definitely going to help us invest into bigger projects," said Senior Tyler Hindman.
Charles Spencer, TVA employee, who funds programs like this was present and eager to see the help the class had received.
"We support Mr. Webb's class and help fund similar programs at Tyner and now here. We make solar and wind generators," explained Spencer.
Administrators were overjoyed with the sight of the prize and the smile on students' faces when they saw it. They all gathered around and took pictures of the event.
"I think this program has opened doors to students who would not have been able to experience this. Our kids have learned things most adults have never heard of," explained Assistant Principal Mr. Steve Lewis.
The students have completed many projects throughout the school year, so it is reasonable that most of the money will go toward future plans. The class has already completed many tasks such as making a portable wind turbine, a small portable generator, solar furnaces, two energy efficient portables, and many more projects. Something they want to achieve is an outreach program that introduces manufacturing to other schools by traveling throughout the county.
"
I think it's an awesome example for the county to see what great teachers, students, and leadership can do. It's always nice to be recognized by other people outside of the school. "
— Dr. Bryan Johnson, Hamilton County Schools Superintendent
"We travel to other schools and introduce things that they've [the students] built. With the administration's support and the students' increased curiosity we've achieved so much. They're wanting to do even more!" said Webb, who is a second-year teacher at Central.
Hamilton County's Superintendent Dr. Bryan Johnson, who was also present, remarked about how this was an excellent example for schools county-wide.
Principal Finley King spoke about the skills Mr.Webb is teaching his students and how they will affect them later on in life, especially after high school. He compels students to learn as much as they can, not only at school, but also with life skills the class demonstrates.
"Your work is really paying off, it's not only paying off right now, but the skills you all are learning with Mr.Webb will be much used when you graduate from high school. Right now you all are learning things and you're learning about careers that you probably had no idea about and that's what we want you to understand," said Principal King.