Lady Pounders Roll Over 'Cats 51-25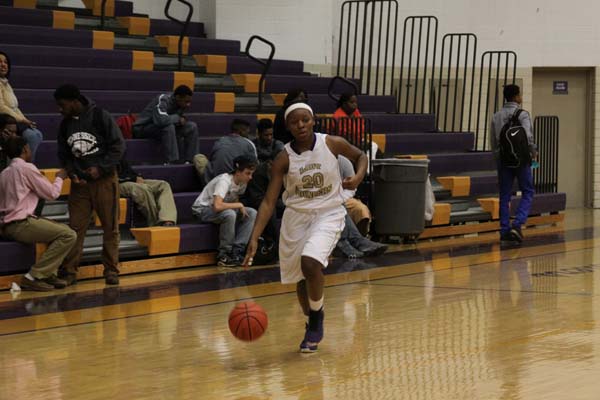 The Central Lady Pounders exerted what many people are saying  is their best performance of the year last Friday night against the Hixson Lady Wildcats. That showing was exactly what the doctor ordered after the Lady Pounders held a 6-7 overall record going into the game against the Wildcats, and needed a good showing to just stay relevant in the Class AA division.
In a very low-scoring first quarter, Central's Madison Rogers nailed a big three that gave the Lady Pounders a quick 8-4 lead as the first quarter expired.
Smart basketball and high percentage shots was the message as the second quarter began. The trio of Sandrea Sylman, India Corley, and Alexus Mitchell boosted Central to an 8-2 run that lasted up until the 3:12 mark in the second quarter. Hixson added to their own demise as they gave up numerous turnovers that turned into easy Central baskets on the other end.
The Lady Pounders would end up outscoring the Wildcats 18-7 in the second quarter after Sylman hit a nice three pointer as time expired.
Central continued to lay it on in the second half as they left Hixson without a point for the first three minutes of the new half. "We were switching our defense up every other possession, just so they could not get into any rhythm at all" says Head Coach Rick May. The run blew up to 16-2, as Hixson made a complete lineup change to bring in reserves.
Shamiyah Jones added to her point total in the opening minutes of the final quarter with a tough layup and foul that fueled the Lady Pounders' energy in the fourth quarter.
It was in the fourth quarter that Central obtained their largest lead of the game at 32, and would easily cruise to a 51-25 victory. It was the second fewest points allowed by the Lady Pounders all year, and was their third largest margin of victory all year. "Everyone contributed in this game, and no one was a detriment. We need more showings like this" stated Coach May.
Sylman led all scores with 15 points (1-2FT) 6 rebounds;  Corley added 11 points for Central; and Mitchell totaled 11 points (1-2FT) 8 rebounds