Central Alumnus, Chuck Flora, Reflects on his Successful High School Career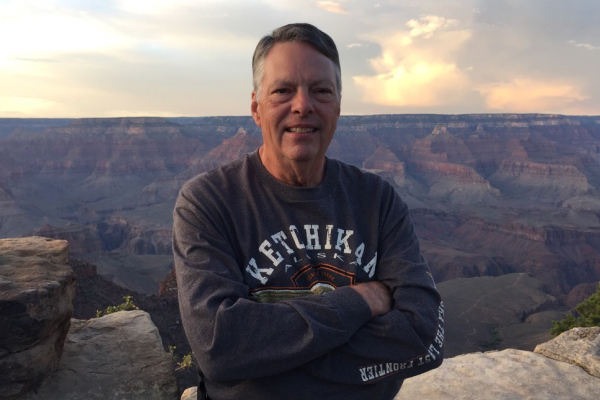 Every student at Central contributes to the school's overall success and atmosphere in their own way. Few students, however, go above and beyond the expected standards. Alumnus Charles "Chuck" Flora is an exceptional example of a student who went beyond the norm to enhance Central overall.
Flora began attending Central at its old location in downtown Chattanooga for seventh, eighth, and tenth grade. From there, he attended Central at its current location in Harrison for eleventh and twelfth grade, graduating in 1971. Flora was a crucial member of the school, receiving recognition from both his teachers and peers.
"My extra-curricular activities included Key Club, Junior High football, Varsity Basketball and Cross-Country Track. I was also a candidate for Mr. Central and was a member of the May Day court. I was in a honors math class, was a member of the Central math team, and Chairman of the Math Club my senior year. I was chosen by the faculty to be their representative at graduation and gave a speech, along with the Valedictorian and Salutatorian. I took ROTC for three years, including optional third year, and was raised to rank of Lieutenant Colonel and was made a Battalion Commander," Flora recalled.
Even though the idea of going to school with high school students seemed daunting to the young middle school student at first, he quickly became accustomed to and appreciated the atmosphere he once feared.
"My experience at Central was different than those that came after me. I got to attend the old Central at its downtown location. Imagine going from sixth grade, to being in a school with high school juniors and seniors. While at first intimidating, it became an experience I treasured. I loved the tradition, especially in sports, and past records of success," Flora admitted.
After graduating, the alumnus went on to attend the University of Tennessee at Knoxville from 1971 to 1976. He majored in electrical engineering and minored in mathematics. After finishing up his schooling, taking breaks in the middle of college to work, he began his serious job at Harriman Utility Board Electricity Company. Flora worked there for 35 years, from 1976 to 2o11, eventually becoming the manager during his journey.
"I started out the job as the Assistant Electric Superintendent, then after one year, moved to Electric Superintendent. Other positions on the way to Manager included: Engineer, Chief Engineer, Interim Manager, Assistant to the Manager, and Assistant Manager. About two weeks after taking the job, I was offered an engineering position with TVA. Although the pay was slightly more, I weighed the options of working for a huge utility versus a small one. At TVA, my job description would have been very limited and focused with odds against promotion to an executive position. At Harriman, my job description had great variety. I worked a variety of tasks and for different department, not just electric, and obviously promotions were steady. I was the big fish in a small pond versus the small fish in the big pond," Flora explained.
As the manager of Harriman Utility Board, he developed a newsletter, wrote employee handbooks, established safety committees, and purchased new properties for the company. However, this does not limit all he did for the company. As the manager, he contributed to many important aspects of the company's success.
Just as Central graduate Flora accomplished many things working at Harriman, he also accomplished many things at Central High. While attending Central, he was an active member of a multitude of clubs and organizations. As Flora cherished his time at Central, he now cherishes his time he gets to enjoy because of his dedication.
"I will have been retired eight years this July. In that time, I have traveled with my wife: Italy, Mediterranean Cruise, Alaska Tour and Cruise, three week tour of Southwest, as well as a couple of trips to the beach each year. When not travelling, I love to work around the house, including carpentry, landscaping, gardening, and enjoy reading. I spend a lot of time at my church where I serve as a Sunday School teacher, soloist, and member of the Choir. My advice to today's students would be to enjoy this time of your life, but make the most of your educational opportunities. Hard work now will pay off in future pursuits, be they college or vocation. I also urge participation in clubs and sports; it will teach you teamwork and hopefully good citizenship," Flora concluded.