First Ever 'Empower Your Future' Women's Forum at UTC Proves to be a Success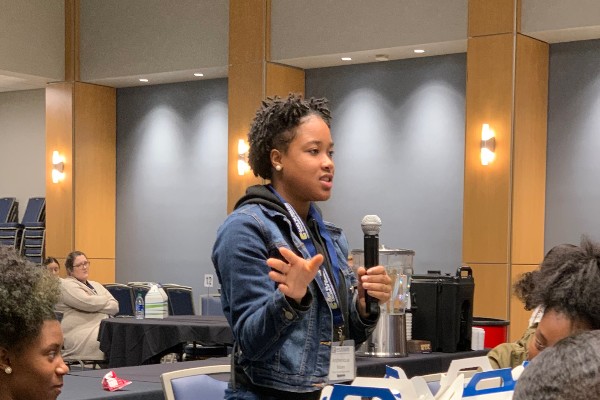 On February 12, Business Academy Teacher Mark Cuttle and Counselor Chelsea Thornhill took a handful of female students to an "Empower Your Future" forum for women; the forum consisted of a panel of four empowering women who found success in their respectful careers in Chattanooga, Tennessee. The event took place at the University of Tennessee in downtown Chattanooga, in the Gary W. Rollins College of Business. The Wednesday afternoon event began with the 10:00 a.m. welcome address, given by Dean Robert Dooley, and a keynote given by Jackie Morgan from the Federal Reserve Bank of Atlanta.
Lunch was also provided for students attending the trip, which included tasty vegetarian options.
The panel discussion started at 11:20 a.m.; Stefanie Mansueto, Carrie Green, Kim Schumpert and Jackie Morgan composed the panel's members. Sue Culpepper, Director of the Joseph F. Decosimo Success Center at the college, served as the panel's moderator and led the discussion.
"We have career professionals that will help you navigate careers," Culpepper began by sharing what herself and her colleagues do in the Decosimo Success Center. She then went on to introduce each of the panel members.
First, Kim Schumpert was introduced as Executive Director of the Chattanooga Women's Leadership Institute, or CWLI, a networking venue consisting of about 700 women.
Schumpert is a Central alumna, and recalled explaining what a Purple Pounder was for years after her graduation.
"Whatever career you choose is a means to pursue your passion," said Schumpert.
Schumpert's message to the students attending the event distinguished an analogy of car traveling to its destination by using gas. The car represents a woman, and every step she takes to advance her career serves as fuel to power herself to her own unique destination. Another piece of advice she gave was for every student to make her own portfolio.
Next, Carrie Green was introduced as the Director of Equities for the Tennessee Consolidated Retirement System; she also manages a $50 billion pension program for Tennessee government employees.
"I came to finance because, when I was eleven, my parents had a business that failed," explained Green when asked about her interest in the financial career field.
Green is a charismatic and personable woman that claimed humans can find math in all that they do, even relating journalism to finance by stock picking (finding and solving stories). Green also shared that one aspect of a financial career could be to look at performances of a company to determine stock prices. She values internships greatly, and enjoys the intern in her office currently.
A piece of advice from Green advised others to start "…being open to the universe and letting it take you on the way."
The next panel speaker introduced, Stefanie Mansueto, also stated that she values internships.
"You are able to really see and experience the culture of a company," said Mansueto to Green about internships.
Mansueto also claimed that interviewing well can make up for not having internships; she had a lack of internships to put on her resume when looking for jobs after college.
When asked about how she chose her job, Mansueto said all she knew was that she wanted to wear suits and go to lunches. She currently works as a credit analyst and builds relationships with companies who want to do business with the company she works for and represents, JPMorgan Chase.
Mansueto is a relationship executive, and manages to balance and overcome many of the concerns and obstacles in her life. During the panel discussion, Mansueto talked openly about her previous concerns of balancing a family and a career. She wants it to be known and understood that in 2020, women definitely can do both— she did.
"We don't have to work until 8 p.m. as most of our mothers probably once did," shared Mansueto on the topic of flexible work schedules.
The aforementioned keynote speaker, Jackie Morgan, was the last woman on the panel. She emphasized the point that pursuing a higher education is not about credentials; it is about continuous learning.
Morgan works for the federal reserve, among a diverse team. She is proud to bring diversity into her office and is proud to be part of the reason that personal finance is in Tennessee high schools' curriculum.
Students were allowed to pose some questions to the panel after the discussion. One of the first questions asked was, "What do you wish you had known as a late teen?"
"[I wish I was informed that] you can start a family and have a successful career. Find an organization that is rightfully adopting modern principles and flexible work schedules in 2020," responded Mansueto.
Many times, young adults are told to stick to the skills that they are good at, which leads some adolescents to believe that they should not pursue fields that they have little experience with.
"[I wish someone had told me that] people will accept you and take you in if you have a willingness to learn," said Green. "Doing so will garner good will for your future and career."
"[I wish I was aware that] you have permission to do what you want to do. Don't let other people's perceptions become your reality. We need to reevaluate society as a whole in order to give women permission [to do what is best for themselves]," said Schumpert.
Schumpert also discussed internal tension concerning what women can and cannot do, and the many sacrifices she has had to make.
The second question presented was, "How do you overcome intimidation when you walk into a space with people who do not look like you?"
"Never doubt yourself, and stay competitive," answered Green. "Keep an 'I can be better at this than them' mindset."
"Keep a 'fake it 'til you make it' mindset, or fake it until you just don't care about the differences anymore," advised  Mansueto.
"It's an important tool to have in your toolkit to learn how to pivot a conversation," said Schumpert.
Schumpert shared a story about how she proved to her current employer that she can offer a fresh perspective to the organization.
Short-term future advice from Green revealed a simple way to build credit; using a credit card for gas money can be a good way to build credit since you know that is something you can pay off. She also advised students to know what income is coming in, and not to spend more than that.
Schumpert's advice for young women is to join a women's organization during their time in college. She also declared women's organizations like the CWLI as, "…a safe space to try things without having a lot on the line."
A 45 minute networking session included a conversation with Melissa Mueller, a junior at UTC in the business college, about what earning a finance or economics degree entails.
Christi Wann showed the group charts and graphs and explained financial literacy. One-on-one conversations with panel members Kim Schumpert and Stefanie Mansueto revealed more. Attendees learned about the scholarship established by Schumpert's family for Central Seniors, honoring her late brother, Robert Horton Campbell.
Mr. Cuttle would be glad to take more of his students to another "Empower Your Future" forum hosted by UTC. The event ran smoothly, and all students who attended were exceptional. UTC's student advisers also hope to see some Central students at orientation soon.
About the Writer
Morgan Snyder, Columnist
Hi! My name is Morgan Snyder, and I am the Digest's new senior columnist. Even though it is my first year on the Digest, I love it very much. I am very...